I'm a hands-on physical therapist (former Chairman of the Registered Physiotherapists of B.C.) with studies in personal growth coaching and leadership. I'm very impressed and professionally excited about using Master Moves to help progress my patient's further recovery as well as positively impacting on the health of individuals in the therapeutic and preventive areas of health.

I invite you to try Master Moves and discover the great benefits from core training. You will learn how you can tone up, lose those few extra pounds, cleanse your body and feel totally energized.

Fred Samorodin, Physical Therapist
Wellness Consultant


Master Moves will help you develop and tone your muscles, with less fat deposit in your organs and abdomen.

It's a great pleasure to help you achieve your wellness and fitness objective. Over the last 30 years, as a physiotherapist and public speaker on health, humour and feeling happy, it has been my privilege to help my clients, help themselves feel 'good to be alive" as they age.

After fifty, I noticed it was becoming harder to participate and enjoy the fun filled moments of life, for example playing sports like Tennis,Golf and Squash,Yoga, hiking with friends, my dog and my children. After 7 weeks of using Mastermoves, I feel like I have turned back the 'aging clock". The exercises integrate dynamic movement with training core muscles, flexibility and breathing properly. The more I do the less of me there is! I feel younger, stronger and full of vitality!

Cathy Russell, Physical Therapist

Master Moves will help you develop muscle mass. In few minutes a day, you will strengthen your body from the inside out.

I'm a traditionally trained registered physiotherapist with over 25 years of clinical experience. My practice uses traditional methods such as exercise programs, manual therapies as well as non-traditional methods such as: acupuncture, intramuscular stimulation (IMS), manual therapy, connective tissue therapy, craniosacral therapy, visceral manipulations, advanced cranial therapy, and vascular therapy.

I invite you to try Master Moves and discover the great benefits from core training. You will learn how you can tone up, lose those few extra pounds, cleanse your body and feel totally energized.

Janice Webber, PT, CAFCI
Registered Physiotherapist



Keeping your core muscles strong and flexible will greatly improve your health and fitness and make you feel strong during your daily activities.

As an international life coach and inspirational speaker, I work with both individuals and entrepreneurs as well as corporations and organizations.

Experience has shown me time and again that our personal power and as a result our ability to be successful in every area of life requires one key element: connection with a strong core!

This is why I really appreciate the efficacy of the Master Moves System, because it is in harmony with how I live my own life and what I see in my clients' lives who create great success as well.

Joshua Zuchter
International life coach, business consultant, and speaker.


Standing and sitting correctly will be much less demanding on every part of your body.

I instructed hockey with Paragon International Hockey Programs in Edmonton for many years and worked with many fitness experts and professional hockey players during my time with Paragon. This previous experience has given me the understanding of general training that I need to succeed with Master Moves.

I have coached Midget 'Rep' hockey and I love hockey - Master Moves is a highly targeted Core Training Program that produces real results. My goal is to educate others to achieve optimal fitness using The Master Moves System!

James Rennick,
Hockey Coach, Fitness Consultant

Master Moves can help hockey players (or anyone) to strengthen their core and develop the stability necessary to succeed!

Core Training is vital to your athletic success and peak performance. The movements in this 15-minute program are designed to stabilize and strengthen your skeletal structure. Your core muscles are the foundation for your upper and lower body. You can't have effective transfer of energy or power without a strong core.

As you begin to work with Master Moves, you will notice less fatigue associated with the body breaking down, helping to increase strength and reduce the risk of injury. As an athlete and educator I highly recommend Master Moves for achieving what I call functional movements.


Chihoko Harrison, Fitness Trainer

Master Moves will help you develop muscle mass. In few minutes a day, you will strengthen your body from the inside out.

Ideal for preventing back problems!
By Dr. FEDOR ZELINA DC, ND (20 years of experience as a successful chiropractor in Ontario, Canada)
While there are numerous reasons why someone might experience back pain, weak core muscles will definitely increase your risk of getting a sore back. The key role of the core muscles is to support the upper body and the lower back, primarily to prevent injury to the spinal column. If you want strong core muscles to make you feel stronger, to gain better posture and to experience more self-confidence, Master Moves can show you how.

Bottom Line: Yes, invest in Mastermoves to enjoy living stronger and younger.

Lots of fun!
By CATHERINE from Canada, ON, DEEP RIVER
I've purchased a lot of exercise equipment over the years. I'm basically clumsy and I often find my coordination is not well matched to the equipment and I soon tire of trying - garage sale pile. My tried and true exercise is the treadmill. Do I actually like it? - No - but I'm diligent - I like to watch movies so my deal with myself is all movies get watched while walking.
Since getting this product home a couple of weeks ago, I've used it every day. What has pleasantly surprised me is how much I am enjoying it. No deals, no falling, I'm a little slow and I'll stick to the beginners until I'm more comfortable with the movements but, it really is fun. This is definitely worth a try. Six months from now we'll see if the fun has any waistline results - I hope so.

Bottom Line: Yes, I would recommend this to a friend.





It's a great pleasure to recommend Master Moves!
By Ann from USA,Arizona, Paradise Valley
As a business owner, mother of two children and a high school lacrosse coach, I know how hard it is to fit exercise into my daily routine. Master Moves not only makes Core Training easy to do, but the simple routines are fun and boosts my energy for the rest of the day.
Bottom Line: Invest in your well-being ... Guaranteed high returns!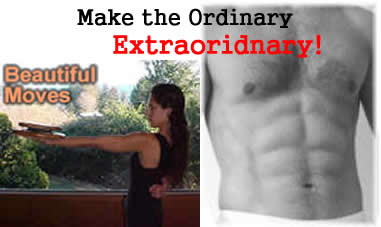 Great for my knee!
By TURALIS from Canada, ON, ETOBICOKE
I bought this product for my waistline but so far no improvements. However, to my surprise my knee problem that I had for years has mostly disappear. I am so impress I want to contact my physio person at Sunnybrook Hospital to tell her about this product. I was discharged in 2008. This is far easier to use than the stretching exercise with the towel and twisting your body into a pretzel.
I will warn you that at the beginning that I had experience a very sore right knee after the first day. But several days later I notice that my right leg felt solid instead feeling like jelly. I then went back onto the core mover but did not over do it. I am happy to say that I am far more mobile and do not have to do the baby steps on the subway stairs. I can keep up with the rush hour crowd now. For this reason I am recommending this product for folks with knee problems. It is definitely worth the try and I saw an improvement within a month. Oh, one more thing, on the first try, I had chest muscle pains and attribute that to overdoing it. It went away and did not come back.

Bottom Line: Yes, I would recommend this to a friend.

Invest in your well-being!

By Dianne from USA,Florida, Palm City
I am a Ph.D. in Gerontology, Master Trainer for ACE, AFAA, and the ISCA, 2nd Degree Black Belt in Wado-Kai Karate, Post Re-hab Specialist, Certified Personal Trainer, Group Exercise Instructor for Kickboxing, Body pump, Spinning, Yoga, and Pilates. My goal is to educate, inspire and empower people to be their personal best!
I chose to embrace the efficacy and beauty of the Mastermoves Core Training System because it is in harmony with my quest to achieve my optimal fitness and share my experience with every person I meet.
Bottom Line: Be a wise investor... try Master Moves.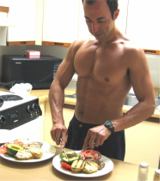 I lost 3.5 inches around my tummy!
By Drew and Julie from Canada, BC, Chilliwack
Drew stepped on the scale in April, at 260 lbs, and his tummy (around the biggest part) was 50 and 1/2 inches. He stepped on the scale today and was 235 lbs (and extremely happy), and his tummy was 47 inches. HE was even shocked as he said he couldn't believe it. All previous DIETS never did work nor did they keep the weight off. We did the Master Moves"almost" faithfully every day, 100 - 200 rotation every morning and every night.
Bottom Line: Yes it works!...Drew said he couldn't believe it.

Love It!
By CARRIE from Canada,ON,WINDSOR
Quality made. Sturdy piece of equipment. This work out is NOT for 'Sissy's'!!
Excellent for all ages - Worth every penny. Sign up for Oswaldo's emails- very inspirational!!
Buy with confidence!
Bottom Line: Yes, I would recommend this to a friend.

Customer satisfaction all the way!!!
By MARIA ROSA from Canada, ON,TORONTO

I emailed Master Moves customer service because my Focus Bar was defected....the hole was too small to thread the string. Expecting a long time for someone to email me back - I was so impressed when not only did Oswaldo email me back right away but is sending a replacement.
I love this piece of equipment. I have already noticed a difference and it has helped release a lot of tension in my lower back. Everyone should give it a try....
Bottom Line: Yes, I would recommend this to a friend.

Worth the money!
By STEFAN from Canada, ON,OTTAWA

Definitely great for stretching and balance, not sure it would help me lose weight or that I want to - I am at a good weight. You will not build muscle with this necessarily but you will feel great. The recipe book is a nice touch and the DVD (4 of them) is easy to follow. It is well worth [$]. My mother was over this week and tried it and she is in her 60's and wants one now. Anyone can do it!

Bottom Line: Yes, I would recommend this to a friend.

Great piece of equipment!
By ARLENE from Canada, ON,THORNHILL

I bought this product when it first appeared on air and have loved it ever since. I put on country and western music and away I go for around 10-15 mins at a time.It is so much fun to use and I feel so much better after. I don't need anything else to work on as this one is terrific.Love it love it. Even when I go to the gym, I use this first and find this for me, personally so much better.
Bottom Line: Yes, I would recommend this to a friend.



This is THE ONE!!!
By BONNIBELLE from Canada,NS,LANTZ
This is the one and only piece of fitness equipment I will ever need!! If you like the moves of salsa, rhumba, then put your music on and move like you have never been able to move before!! It has freed me from arthritic pain in my hip and knees and given me back my abs. It has also strengthened my legs, arms, back and I have lost several pounds in only 3 weeks. It's an allover workout that anyone can do and enjoy! ALL my other equipment (except Aero-Pilates) are out the door.


Bottom Line: Can't recommend this enough! Best bang for my buck ever.