Core Training Frequent Questions
What is the size and weight of the Power Disk?

Effective May 1, 2016, the Power Disk is manufactured in Canada from solid Maple wood. This new model is larger and better than our previous model.
| | | |
| --- | --- | --- |
| | New Model | Old Model |
| Top Diameter | 12 inches | 11 inches |
| Base Diameter | 11 inches | 9 inches |
| Total Weight | 6 pounds (2.8 kilos) | 5 pounds (2.3 kilos) |
The Power Disk is load tested to 500 pounds (227 kilos) to ensure it will last over 10 years of normal usage conditions.
1- What is Master Moves?

Master Moves is a Core Training system, focusing on strength and tone in the abdominal, obliques and lower back. Although primarily a resistance and stretching workout, similar to some forms of Yoga and Pilates, Master Moves does result in a better posture, core strengthening and a healthy calorie burn.
What make this training quite unique and effective is the "hips rotation" that you get from the Power Disk exercises. By using circular movements, literally, you will dance your body into shape. The exercises involve similar moves to those found while you are skiing, skating, rollerblaiding, playing tennis or golf. The practice of Master Moves requires only your body, instructional videos and 3 portable training tools. With daily practice of Master Moves, you will shape a lean body while improving balance, coordination, endurance and core strength.
Contrary to traditional ABS exercise, based on sit-ups and crunches, low-intensity training like Master Moves will help you develop and maintain a healthy and fit body based on functional movements that will improve your daily activities and the practice of sports.
2- How Many Calories Are Burned Using Master Moves?

Master Moves has 3 level of Core Training - beginner, intermediate and advance. The beginner and intermediate levels focus on building muscle rather than burning calories or increasing heart rate. The advance level focuses on burning calories or increasing heart rate

Typically, a medium-intensity session with Master Moves (15 minutes) burns about 200 calories for a 155-lb. person. Heavier people will burn more in the same workout, and lighter people will burn less. According to Walter Willett of the Harvard School of Public Health, a body burns more calories in all activities in proportion to how much muscle that body carries. Thus, the more Master Moves workouts you complete, the more calories the next workout will burn.
Average Calories Burned for Intermediate level - 15 minutes routine

Pounds

135

170

250

170

200

250

Inches

65

68

75

72

70

74

Age

35

40

50

35

49

50

Sex

Female

Female

Female

Male

Male

Male

Calories

203

231

238

307

320

351
3- How to lose 20 pounds using Master Moves?



For most people, weight loss is a slow, difficult process, but one that can be made easier if you are ready to address many areas of your life and if you are willing to reach out for support from health professionals, friends, and family members. Weight loss is a basic equation based on eating the right foods and doing the right exercises.

Weight loss is a commitment to choosing the right foods, exercising regularly, and giving your body necessary tools to eliminate toxins, assimilate nutrients and function at its peak each day. That's why Master Moves developed this revolutionary program based on daily Core Training and Core Nutrition. Master Moves combines the extraordinary benefits and weight loss power high fiber to help you maintain healthy weight for life.
Weight loss is often treated as a "quick fix" or short-term goal. However, losing weigh is not something you do for two months and then go back to eating fast food and processed junk foods. No! True weight loss can only come with a lifestyle change. Sometime, people get an invitation to a wedding or they have a class reunion coming up. They feel they can lose 20 pounds in few weeks and still be healthy. However, a good, sustainable weight loss program will not take off more than one or two pounds a week. So, to lose 20 pounds, you would need to start 10 weeks in advance of your upcoming event!
4- Do I need to do crunches and sit-ups?

Everybody agrees that sculpted, 'Six Pack' AB muscles look great and keep your body in shape and healthy. But the amount of money and time people waste on useless ABS exercises is brutal. Most torture their bodies with endless crunches and many other ABS exercises, but the results from this training is not sustainable. Most people after few years of painful crunches routines abandon this training because they eventually injure their neck or back.
The truth is, every one of those ABS exercises that I just mentioned, will NOT help you have a lasting slim body and good CORE MUSCLES. EVERY one of these ABS exercises were designed for ARM FORCES training, and will only help you strengthen your ABS muscles. But the amount of time people waste on ab exercises (thousand of sit-ups and crunches)...please!

When core muscles count, Master Moves is the best option. We are experts in core muscles development. We deliver the most effective fitness programs for individuals / organizations looking for high performance and optimal productivity. We provide exceptional fitness services and we will do whatever it takes to achieve your fitness goals.
5- What is the importance of core strength?

Did you know that very movement you make is initiated from your abdominal muscles? Observe any elite athlete, dancer, or gymnast, and you'll see a strong core. Look at any good leader or individual with good posture, and you have an example of good musculature working correctly.
Countless studies have demonstrated that the lack of core muscle strength makes people susceptible to poor posture, lower back pain and muscle injuries. On the other hand, core muscle strength provides the brace of support needed to move your body with power and balance - helping prevent back pain and injuries.
Strong abdominal muscles will not only reward you with good posture, they'll also help your squash or tennis game, golf swing, or simply help you to perform your daily tasks better. That's why the abdominal muscles (abs) are called your core muscles.
6- What are the benefits of Core Training?
Builds strength, balance, agility, and flexibility

Helps you to perform daily activities

Helps to eliminate fat around your waist


Helps to eliminate back pain

Corrects posture

Ensures more efficient movement patterns


Provides joint stabilization


Helps to protect the back during heavy lifting

Allows the muscles to work synergistically

Allows stability in movement


Helps athletes perform better in whatever sport they play


Is vital for preventing/recovering from injuries
7- I'm 78 years old. Can I can practice Master Moves?

Anyone can practice Master Moves Senior people can practice Body Conditioning the rest of their lives. Children can do most of the exercises, especially Body Flexibility and Body Coordination. People of any weight can begin with the Body Toning program and gradually practice all the Master Moves programs. And for people in good shape, Body Endurance and Body Strength are the ideal programs.
Instead of laboring for hours on the stair master or the tread mill, with the Master Moves low-intensity exercises you can lose weight without breaking a sweat.

Rather than having to drive to the gym and then wait for machines, you can do the Master Moves exercise routines in the comfort of your living room for a fraction of the time.


Instead of feeling tired and drained after a gym workout, your 15 minute Master Moves practices will leave you refreshed and charged with energy.
8- What type of stress is places on the knee and hip joints?



We have clientes with hip replacement and knee injuries who practice Master Moves without pain or problems. As long as you do the exercises correctly, as explained in the videos and manuals, there no stress on the knee or hips joins. During the exercises, you are in control of the rotation of your hips and how much to bend your knees.
Whether suffering from regular low back pain or recovering from surgery, the best way to avoid or minimize the risk of back pain recurrences is to rehabilitate the back through proper nutrition and appropriate back exercises to develop a strong and flexible core.

9- What is Body Conditioning?



The Body Conditioning Program is designed to develop natural fitness and to correct postural imbalances that can lead to injuries. Regular exercises with Body Contitioning roune can help you heal from neck and lower back injuries. Many of our clients with back and knee injuries have benefit from regular practice of Master Moves. Below is a link to the Body Conditioning Routine:
http://www.mastermoves.com/conditioning.html
10- What tools do I need to practice Master Moves?



Most of the exercises are performed with the help of two simple tools - the Master Disk, the Focus Bar, which come with the Basic Master Moves package.
Crafted from durable hardwood, these products are not only 100% natural and safe to use but also aesthetically appealing so you can keep them in your living room.
The Master Tools are also small enough so you can take them with you to your office or even your hotel room if you are traveling. OK Initiatives, Inc. ensures 5 year warranty on the Master Tools.
11- What is the maximum user weight recommended?



We recommend a maximum user weight of 350 pounds (160 kilos). At Master Moves we pride ourselves on our durable, safe products so although the maximum user weight recommended is 350 pounds (160 kilos), the Power Disk is load tested to 500 pounds (227 kilos) to ensure it will last over 10 years of normal usage conditions.

12- What is the maintenance required for the training tools?



Your Power Disk should always look new so that you can display it as a beautiful item in your home, office or anywhere you travel. Keep your Master Disk in good condition and it will make you appreciate it and use it often. Your Power Disk is pre-greased and ready to use. Maintain your Power Disk every 2 to 3 months as follows:
Lubricate the bearing plate with bearing grease. Use an old toothbrush to apply the grease to the center of the plate. This will keep the Power Disk rotating smoothly by reducing friction between its moving parts.

Clean your Disk by gently rubbing a small amount of body lotion or furniture oil on the surface. Use a dry soft, cotton cloth.
13- How to lubricate the Power Disk?



You can use bearing grease to stop squeaking sounds and protect the metal parts of your Disk. Ideally you should use any bearing grease to help maintain your Power Disk and prevent rust. This maintenance is required every 2 to 3 months. To effectively apply the grease in the bearings, use an old toothbrush.
14- What are the meal plans or diets suggested?



Apart from exercise routines, the Master Moves system also includes healthy eating plans - natural, wholesome recipes, organized and designed to have a twofold purpose.
Detoxification: to eliminate toxins and bring your body back into balance by improving your immune system, improving circulation and ensuring your body has all the energy it requires to maintain health.
Nutrition: to eat a wide variety of healthy good that will make you feel good and maintain your energy levels throughout the day. You will be amazed at the difference changing your daily diet will make to your overall sense of well-being.
15- Why do most people need fitness trainers?



Simply because most people lack the self-discipline to stick with a program longer than a couple of months, usually because they are easily bored, or not getting results quickly enough. In my opinion, any fitness program that promises lasting result in less that 3 months is just a fad.

16- Why do most people fail at their fitness goals and give up?



Simply because they have misidentified their goals. They have set unrealistic goals. People set goals such as "I want to lose weight" without considering the the 3 fundamental steps: daily exercises, proper hydration and natural food. Most people take shortcuts such pills and supplements.
Viewing healthy nutrition, proper hydration and daily exercises as a temporary solution to a temporary problem is what leads most people into the yo-yo dieting cycle. The loss of muscle when dieting, coupled with a gaining of fat when not dieting, can have serious affects on one's metabolism. And it can also leave us dissatisfied, softer, and more disappointed in ourselves than ever.
17- How to set you fitness goals?



Simply changing some of the messages we give ourselves can change our approach to fitness, and make it easier for us to achieve real success—long term success. People have a difficult time identifying the changes in their behavior and routine that they must make. But this is where one must start. One of the biggest problems all new students face is how to be disciplined and exercise daily. Don't let this worry you for now. A whole module is devoted to set your mind and commit yourself to your fitness goals and your tutor will advise you as needed throughout your training.
We show you: how to set your mind for your fitness success; how to eliminate toxins from your body; how to plan your meal; when to exercise; how and when to use mental relaxation and how to deal with those days that you a not in a mood to do what it takes to be success.
Our healthy and successful customers prove the effectiveness of our Tutors. They regularly have amazing results - because our programs work. Once your body has reached your optimal fitness level you should have no difficulty in achieving anything that you want in life. Follow our advice carefully, do everything we ask of you, and we are confident that - like many students before you - you too will soon be a fitness leader.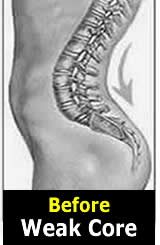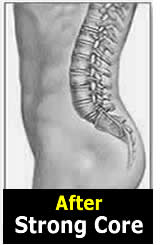 18- What are your advantage with Master Moves Core Training?

Master Moves uses the same methods and exercises as dancers, athletes and top fitness experts. We combined the best elements of Martial Arts, Yoga, Gymnastics, Dancing and Body Massage to bring you the ultimate fitness program - simple and very effective.
Master Moves fitness programs consist of relaxing exercises designed to tone your body and develop your flexibility, strength, endurance, coordination and speed. The exercises are performed with the help of two simple tools - the Master Disk and the Master Rod. In addition you can include the Master Massager for body relaxation and flexibility.
The beautiful tools are crafted from a highly durable hardwood; these products are attractive, safe, and portable to take with you just about anywhere - home, work and trips.
19- How to start your Core Training program?



All too often, we start off a fitness, diet, and lifestyle change routine in a big way, and then quickly burnout, overwhelmed by all the change.
Fitness and Health does NOT have to be an "all or nothing" proposition. Why start exercising and eating right and stopping drinking all at the same time? For those of us who have been inactive and careless about our eating habits over a long period of time, what makes us think that we will be able to completely change the routine of our lives and maintain that for any length of time?
Instead of starting out in a big way, and then burning out, we suggest that you implement the 28-Day detoxification program and do small changes over the course of three months. Commit to only increasing your water intake the first week. Then add another small change, like cutting back on late-night snacks.
The next week, you may decide to stop drinking or smoking, and after that you can begin to cut out fatty meats, or reduce caffeine intake, etc. If you do this, you will be much more likely to follow through, maintain your good habits, and will feel less deprived and punished.
20- What are your Guarantees?

You can try out the program for 30 days and return it for a FULL REFUND of the price if you're not completely satisfied. Your guarantees are your safeguard of a fair deal and high training standards from OK Initiatives, Inc. They are our commitment to you. Providing you play your part, you can't lose! You have nothing to lose and only a healthy body to gain.
21- What is the strategy for achieving fitness success?



Introduce one small change per week, and the lifestyle changes that you desire will happen, and will last for a lifetime. Under the guidance of an experienced fitness trainer, you will achieve your fitness goals. The assignments are designed to give you a variety of natural exercises to do. The exercises are appropriate for any of the fitness goals you want to achieve (flexibility, coordination, endurance, strength or speed.)
You will also receive advice on how to:

Relax mentally and physically

Organize your meal plans

Become a fitness trainer

Improve your overall health & fitness
If you are interested we can also explain how you can improve your vitality and beauty, and how to avoid the common errors and mistakes that many people make when they begin Master Moves
Your tutor will encourage you with objective, realistic and constructive comments. Through this firm but gentle approach many students come to know their tutor as a trusted friend.
All of our tutors are successful fitness experts. Each person has the experience learned only through specialized training and hard work. We have trained them to help you overcome any difficulties you may encounter as a Master Moves student.
From their own experiences our trainers can assist you from start to finish, so you achieve the results you came to us looking for. Everybody at Master Moves has the same goal - to help you become a strong, confident and successful fitness leader.