How Does It work?
The Mastermoves system is the combination of the most simple and fundamental exercises, designed to develop flexibility, strength, coordination and speed. The exercises are performed with the help of two simple tools - the Master Disk and the Master Rod, which come with the Mastermoves package.
Crafted from durable hardwood, these products are not only 100% natural and safe to use but also aesthetically appealing so you can keep them in you living room. They are also small enough so you can take them with you to your office or even your hotel room if you are traveling.
Apart from exercise routines, the Mastermoves system also includes healthy eating plans - natural, wholesome recipes, organized and designed to have a twofold purpose.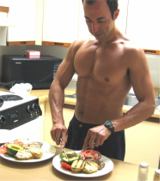 Detoxification: to eliminate toxins and bring your body back into balance by improving your inmune system, improving circulation and ensuring your body has all the energy it requires to maintain health.
Nutrition: to eat a wide variety of healthy good that will make you feel good and maintain your energy levels throughout the day. You will be amazed at the difference changing your daily diet will make to your overall sense of well-being.

The intent of Core Training is to strengthen the muscle groups that stabilize your skeletal structure. These are primarily the muscles in the thoracic area that determine your posture in each position of your body. The first step to improving your posture is getting to know these muscles, then toning them so you can tighten them together with your lower back's muscles.
Foundation for Movement -These muscles stabilize the spine, pelvis and shoulder and provide a solid foundation for movement in the extremities.
Protection of your Vital Systems - Your core provides a protective shield for your spinal cord and internal organs. The core muscles also function to keep your insides in, where they belong.
Improves Body Fluids - When your body moves and is exercised from your core, the internal organs are mobilized and stimulated from adhering together. It improves fluid flow through the organs and is very helpful to maintaining normal bowel movement.
Enhance Circulatory Support - Core Training allows pressure changes in the core muscles that assist the heart and extremity muscles to circulate blood and lymphatic fluids throughout the body.
Good Body Posture and Body Stability - Your core muscles stiffen the spine, rib cage and pelvic girdle so that your head, arms and legs have stable working foundation. These muscles all work in harmony to provide stabilization for your body to transfer power from the legs to the upper body and vice versa.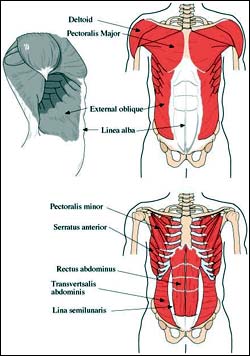 Learn Fast & Easy CORE-Energy Recipes - Eat for energy and health. You don't need to spend hours in the kitchen, that's why we've have put together a selection of our simplest time-saving recipes - delicious and healthy recipes for every day. You will feel better, look younger and enjoy a health lifestyle.

Core Training Is The Real Weight-Loss Solution For Any Age - Children - Adults - Seniors. Our Core Training programs are the most effective exercise program for toning, strengthening and firming your core muscles. Daily Core Training will help you increase rotational balance, agility, flexibility and strength. Gradually you will blast fat from your vital organs, tone up your core muscles and develop great vitality. You can look younger, feel stronger, and enjoy an active life without pain and injuries. Indeed, Core Training is now seen as an essential training for any player who seeks to keep their chances of sports injury to the minimum.

You can improve your postures and self esteem - The practice of Core Training is a life-changing experience. Day by day, it changes the way you eat; it changes the way you drink; it changes the way you rest; it changes the way you exercise, and most important, it changes how you think about yourself. You will enhance your self esteem by developing a healthy, strong, lean and youthful looking body. When you are in shape and you have high self-esteem, you create energy in your life to make things happen.

You can achieve optimal fitness - Based on your fitness level, the goal of our fitness programs is to work the area that supports your trunk and spine. By creating a firm, lean and strong core muscles, you will stabilize the spine so it acts like a solid foundation for sustaining a good body posture and outstanding fitness level.