Personal Trainer
Vancouver, Canada
Get Inspired!

Master Moves Success Story

Oswaldo Koch featured on TV:
- CBC Dragons Den
- The Shopping Channel
- Urban Rush - Studio 4
- The Master Moves Infomercial.

Working in Canada as a computer professional with a stressful, time-restricted schedule, Oswaldo began to seek alternative ways of exercising. It took him over one decade to develop and refine the Master Moves Training System

As Seen On TV...

Click Here
Success Story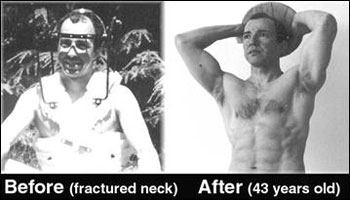 Imagine suffering a nearly fatal mountain biking accident. You've fractured your neck and after enduring a painful head brace and without exercising for 1 year, you develop an amazing fitness condition - a beautiful, flexible, fast and strong body in just 3 months of training. Oswaldo Koch of Vancouver has done just that. He became an expert in core muscle development while healing a painful back injury that put him at risk of becoming a paraplegic.

Oswaldo is an industrial engineer, fitness trainer, inventor, MBA, IT expert. For 25 years, Oswaldo has focused his entire agenda around fitness programs for helping people create lush lives of health and optimal fitness.

During his studies in the naval academy of Peru, he learned the art of proper nutrition and a great variety of fitness disciplines including boxing, gymnastics, self-defense, sailing, swimming, and diving. Later, Oswaldo trained in martial arts, free diving, dancing, yoga, tennis and marathon running.
At the age of 49, Oswaldo feels healthier and stronger than ever before. The experience of the accident and painful recovery helped him to understand and incorporate two new and key elements in his Master Moves practice - relaxation and respect. Since then, Master Moves has evolved into one of the most complete fitness training systems in the world.
Motivational Speaker

Oswaldo Koch is founder and president of OK Initiatives, Inc., a specialized management information systems firm focused on team-development and organizational health. Oswaldo Koch speaks primarily to any organization looking to achieve high productivity. He is an expert in showing organizations how to get more from their employees and information systems.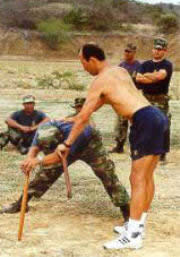 Drawing upon over twenty years of corporate experience in both high-tech, manufacturing and human resources, His client list includes some of the largest corporations in the private sector, major trade and professional associations, small business, government, and not-for-profit organizations. His presentations are thought provoking. His advice to his audience is practical. He speaks with passion. And his message is clear:
"Most of us live in a society where elevators, escalators, and automobiles have rendered muscles, once firm and strong from running and climbing, weak and flaccid. Our minds have also become dulled from lack of use as we allow computers to do more and more of the work for us. Our bodies weaken from food that is too rich and a physical life that is too soft. Our society, our economy, our lifestyle is geared to the instant and disposable. We have turned into a materialistic society, with no respect for our planet. My intention is to make this presentation the clearest and most inspiring information to help you address most of these challenges".
As well as keynoting, Oswaldo offers in-house management development programs and facilitates team building and planning sessions. Since 2001 he has been introducing "cutting edge" skills and concepts around:
- overcoming obstacles
- transforming people into leaders
- fostering superior team performance
- achieving optimal fitness
Keynote Titles:
- Winning At News Teams (Team Building)
- Becoming A Master Leader (Leadership)
- Vision Boards (Creativity)
- Becoming A Master Manager (Management)
- The Science of Persuasion (Communication)
- Internet Marketing (Business)
- Wining At New Products (Strategies)


References:
"Oswaldo was inspirational, touched everyone in the room. He was articulate, charming, warm, inviting, and totally wonderful. The feedback was terrific - we could not have done better!!!!
- Toastmasters
"The audience was completely captivated and deeply touched by Oswaldo's speech. One of my favorites parts was when Oswaldo explained the fundamental moves for dancing with beauty and sensuality."
- YMCA Connections
"Everyone was excited with the content of his presentation. We were delighted to hear such a dynamic and professional presentation which was based on a sound understanding of marketing."
- BC Inventors Association
Inpirational Writer

Oswaldo Koch writes primarily about fitness and prosperity -- the science of success. He sees every person as a tremendous, still-untapped leverage point for increasing creativity and productivity and he is an expert in showing them how to unleash the power of the mind and body.
Some of Oswaldo's published books are:
- The Core Challenge
- Your New Body is Here
- Vision Boards
- Relax and Grow Smart
- Basic Principles
The Birth and Evolutiong of Master Moves


By Crist Pollon



After a life-threatening bike accident in 1998, Oswaldo Koch developed Mastermoves as a method of healing and gently strengthening his body. In a conversation with writer Christopher Pollon in August 2003, Oswaldo described how the Mastermoves system evolved from personal therapy to an international training phenomenon.
IN 1998, YOU HAD A SERIOUS ACCIDENT THAT CHANGED YOUR LIFE. WHAT HAPPENED?
I had gone mountain biking one afternoon near Victoria BC. At one point I was barreling down a steep hill, high on adrenaline and completely oblivious to danger. I hit a bump and was thrown from the bike, landing right on my head. When I recovered consciousness a minute or two later, I felt a blinding pain in my neck, as if my spine had been pierced by a sharp piece of metal.


HOW CLOSE DID YOU COME TO BEING PARALYZED?


Very close. The next day I was put into a very painful head brace. The doctors decided against surgery because they weren't sure what was damaged internally, so it was left for time and nature to heal.


WHAT FORM DID YOUR REHABILITATION TAKE?


The brace was removed after about six months, so it took me about a year before I could really begin my training. During that time, my body and muscles had atrophied from inactivity. In addition to physiotherapy, the doctors suggested I start some gradual weight training. I decided not to follow their advice, because they gave me all sorts of precautions and I really felt like I was limiting myself and my recovery.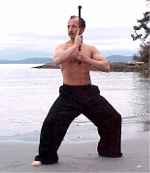 WERE YOU CONSCIOUS THAT YOU WERE FORMULATING YOUR OWN TRAINING SYSTEM RIGHT FROM THE BEGINNING?

Not at first. But I realized how my previous training regimen had been physically damaging, so I was determined to come up with a better method to enable my body to heal and become stronger.
Early on, I did a lot of reading, focusing on many different types of training -- yoga, tai chi, chi kung, Latin dancing and Aikido. For example, I was interested in applying the principles I had learned during my four years studying the Japanese art Aikido - such as the importance of being gentle with your body, and of the importance of being in physical, mental and spiritual harmony with nature.


WHAT HAS MASTERMOVES EVOLVED INTO TODAY?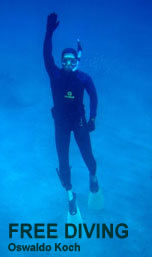 Mastermoves is a fitness practice that can develop and strengthen the body in a completely gentle way. It encompasses total health - including mental and spiritual well-being as well as physical fitness.

The system eliminates the barriers to developing our bodies to their full potential. It helps us change bad habits involving our body posture, the quality and quantity of food we eat, our mental well-being, and how we move and walk.

You train 15 minutes each morning and 15 later in the day, gradually developing improved muscular symmetry, coordination and speed - all the conditions required for your body to perform optimally, no matter what kind of physical activity you do. To get results, you do not have to submit to a regime of tortuous forced reps or injury-inducing high intensity workouts.


HOW DOES A BEGINNER START MASTERMOVES?


It begins with two weeks of general conditioning exercises, two times a day. This will provide the foundation. All of these initial exercises are done on the floor, focusing on improving the posture. The only exception are the standing exercises needed to develop and expand the range of motion in the hips. This type of movement and flexibility is underdeveloped in most people who are starting Mastermoves.


So, once the two weeks of conditioning are done, you can chose a specific program based on your fitness goals. There are different Mastermoves workouts for developing flexibility, strengthening, and endurance. If you just want to have a total workout and stress general fitness, you can do that without specializing.
Manage Your Weight & Shape!
Select your ideal program:


Purchase your Core Training System Now!
90-Day Satisfaction Guarantee!