WELCOME MESSAGE
Dear friend,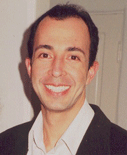 Welcome to the Mastermoves Private Members Club!
In response to the multiple requests I received from Mastermoves users throughout the world, I am pleased to announce the launch of the Mastermoves Private Members Club. The goal of the club is to create a community of people sharing the common objective of taking care of their minds and bodies - living a healthy and prosperous lifestyle.
Sometimes we make a commitment to improve our wellness and fitness level and start on a program, such as Core Training or Vision Boards. The first few days we feel full of fresh hope and energy, but after a few weeks our daily problems and busy schedules take their toll and push our commitment to personal growth to the end of our priority list. Sometime we are so overwhelmed by daily tasks that we lose sight of our ultimate goal, our motivation dwindles and we stop our personal growth.
Only if you have someone else to share your experiences with. Someone who understands what you are going through. Ideally another person using the same system or methodology, then you have a partner to support your personal growth. We are here to assist your personal growth.
Personal growth is the process of responding positively to change. It involves risk as you step from the known to the unknown. All your growth will depend on your daily activities. Your strength and growth will come only through continuous effort and some times struggles. We are here to assist your personal growth.
There will be no development without effort. For some people, trouble is the common denominator of living. For others, harmony is the norm. Trouble and harmony are the equalizers of life. Your happiness and your sorrows will develop you.
In any case, when good or bad fortune comes your way, we are here to assist your personal growth and we will transform it into something of value.
Since this Club was built for you, we welcome your input and would like to hear what improvements and additions you would like to see here. Just drop us a line at feedback@mastermoves.com.
For a healthy and prosperous life,


Oswaldo Koch
Creator of Mastermoves



homepage | club main page | welcome | challenge | recipes | exercises | quiz
coaching forum | share your success | product catalog | certification | affiliate | editorials