CORE TRAINING WEIGHT LOSS (Canada)
Power Disk
This is the main exercise tool in the Mastermoves set and is used in almost all Mastermoves exercises. The Power Disk is made of durable recycled wood with a heavy-duty metal bearing plate for rotation. It works most effectively for people weighing up to 350 pounds.

Focus Bar
Made of durable recycled wood, the Focus Bar allows you to accelerate muscle conditioning and perform a wider variety of core muscle exercises.

Jump Start to Success

This manual provides important wellness information, benefits, and tips on the 5 Mastermoves Pillars of Health: Hydration, Nutrition, Exercise, Hygiene, and Energy. Simple and nutritious recipes and detoxification juice mixes are included.

User's Guide

This manual provides basic information for starting your Mastermoves core training. Learn how to rotate on the Power Disk, follow a step-by-step body conditioning routine, define your fitness goals, and maintain your Power Disk. A suggested workout schedule is also included.

My Success Guide Manual

Provides a comprehensive overview of the Mastermoves principles and techniques complete with healthy cooking recipes. The main focus of the Mastermoves is a proper hydration, nutrition and workout plan that can be accomplished in just a few minutes a day.

This training manual will help you to develop a lean and strong body core by performing simple yet extremely effective exercises with the Master Moves tools. 100 pages.

Introduction DVD

You want a great physique and you want a well-conditioned cardiovascular system. But time is definitely not on your side. You 're are motivated to train, but you are busy, busy, busy. What to do? Master Moves! Easy ways to muscle up!

Body Conditioning & Toning

Unlocks tight muscles and joints
Prepares the body for advanced routines
Improves posture
Alleviates sore muscles
Preserves mobility as you age
Improves range of body motion
Tones your entire body.

Three Workout DVDs

Body Blast (Beginner Level)

Boosts your energy
Rejuvenates your body
Strips away stress
Trims your lower body
Shrinks your waist with easy to follow exercises.

Body Endurance (Intermediate Level)


Increases metabolic rate
Improves agility
Improves balance
Improves body posture
Improves sport performance
Builds muscle

Calorie Blast (Advanced Level)

Improves range of body motion
Tones your entire body
Develops explosive strength
Shapes an rips your abdominal muscles
Improves coordination

Plus Your Coaching Program

One Year Online Coaching

The Core Challenge is designed to help you achieve your personal goals. Day by day for 100 days, The Core Challenge will guide you to be the best you can be. Day by day, you will understand the importance of Best Practices in the development of your mental and physical fitness.

By creating firm, lean and strong core muscles, you will stabilize your spine to develop a solid foundation for sustaining good body posture and optimal fitness!

Core Hydration Bottle


To help you stay energie and committed and inspired to achieve your goals, this special water bottle encourages the natural way to hydrate your body. Adding Mother Nature minerals and vitamins to your water will make your water alive and energized.

100% GUARANTEE
1 Year Limited Warranty: Your Master Disk Set is delivered to you in new condition and is warranteed against defects in material or workmanship for a period of one (1) year.

Last Few Words

Whether your goal is permanent weight loss, muscle toning, strength building or enhanced physical performance:

Mastermoves will help you develop better posture and muscle mass, with less fat deposit in your organs and abdomen.
Mastermoves provides you with all the information and tools necessary to that; all that remains is for you to apply them.
Mastermoves is a holistic Core Training program that will make you learn, stronger and flexible in 15 minutes a day.

We have done all the worknow it's your turn!

Order Now!
Complete Core Training Set

Weight Loss

CAD$ 149.95

Plus Shipping

Shipped by Canada Post - Expedited Service

Includes:

All "Complete Set" items mentioned above, plus:

Body Conditioning DVD


Core Hydration bottle


One year online coaching for weight loss


30-Day Money Back Warranty

Success Stories

For most people, weight loss is a slow, difficult process, but one that can be made easier if you are ready to address many areas of your life and if you are willing to reach out for support from health professionals, friends, and family members. Weight loss is a basic equation based on eating the right foods and doing the right exercises.
Weight loss is a commitment to choosing the right foods, exercising regularly, and giving your body necessary tools to eliminate toxins, assimilate nutrients and function at its peak each day. That's why Mastermoves developed this revolutionary program based on daily Core Training and Core Nutrition. Mastermoves combines the extraordinary benefits and weight loss power high fiber to help you maintain healthy weight for life.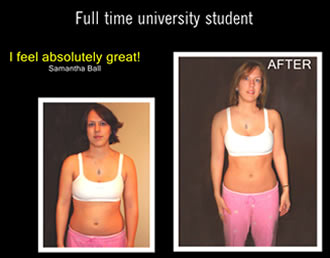 Weight loss is often treated as a "quick fix" or short-term goal. However, losing weigh is not something you do for two months and then go back to eating fast food and processed junk foods. No! True weight loss can only come with a lifestyle change. Sometime, people get an invitation to a wedding or they have a class reunion coming up. They feel they can lose 20 pounds in few weeks and still be healthy. However, a good, sustainable weight loss program will not take off more than one or two pounds a week. So, to lose 20 pounds, you would need to start 10 weeks in advance of your upcoming event!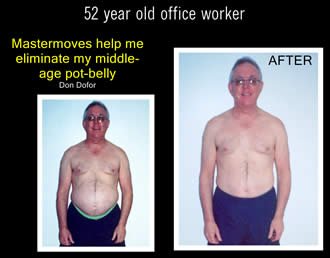 The success of the Mastermoves system stems from 3 steps which I have discovered while supervising the kitchen of the naval academy and through years of research and experimentation with martial arts, yoga, dancing and sports. They are also the guiding principles upon which the system was built. Here are just three of the 10 secrets that will share with you in the Core Weight Loss Program® program:
Step #1: The first step towards your fitness success is to set your fitness goals and create a fitness mind-set. The weakness of most fitness programs out there is that they underestimate the power of intention. Successful people are intensely goal-oriented; they have the ability to identify what they want, make a plan to attain it and use the best tools, resources and strategies to achieve their goals. As in any project, you can have the best plan, tools, and strategies at your disposal, but if you have a poor mindset, the plan, tools, and strategies will not do much good. The Mastermoves manual will guide you step-by-step in setting your fitness goal and creating the right mind-set to ensure your day-by-day fitness success.

Step #2: In the long term, the most effective fitness exercises are the ones that do not put excessive stress on the body and are performed for short periods of time throughout the day, every day. Unfortunately we take the wrong approach when we sit in our offices all they long and then try to compensate for our sedentary life by going to the gym and putting excessive stress on our bodies every once in a while. The net result is that we do more harm than good. The stress depletes our immune systems and leaves us vulnerable to diseases and chronic fatigue. Traditional fitness is not the answer. You need invigorating but low intensity exercises that tone your muscles, lubricate your joints and strengthen your immune system.

Step #3: Current diets that focus on counting calories and preach restricting the intake of carbs or fats are missing the point. The important thing here is that food contains organic compounds (such as proteins, vitamins and amino acids) which play the critical role of providing necessary nutrients to every single cell in your body. When a certain food is being processed, however, most of these organic compounds are lost and your body does not get sufficient nourishment. Studies have shown that eating several pounds of processed food can supply your body with the same amount of nutrients as eating one pound of unprocessed, organic food.
In other words, if you improve the quality of the food you eat, you will need smaller portions to get the same amount of nutrients. As a result you will be shedding extra pounds while being in the peak fitness shape of your life. Many people tell me that these three principles are just common sense and there is nothing revolutionary about them. I totally agree. Yet regrettably very few "fitness experts" share those values. Most training and dieting "gurus" unknowingly mislead the public and contribute to the problem. In an attempt to help people disillusioned by these practices, I decided to create a system that goes back to the basics and uses natural principles to help people achieve fitness for life.
When you buy the Mastermoves system you get a set of cooking recipes that will help you prepare tasty and nutritious meals. The ultimate goal is to help you develop the necessary habits so you can have healthy nutrition for the rest of your life.

Success Stories in 7 Weeks!
"...WOW! I twisted away 26 pounds and 2 inches in just 3 months!"
"As a 51 year old office worker, tied to a desk, I found that I was gaining pounds. Off and on, I tried dieting, but realized that the popular diet programs and exercise plans did not work long term. I was looking for a new way out, especially after seeing myself in a family celebration photo and realizing that I did not like what I saw. The years of indulging in food, drink and good times were taking their toll on my health and personal well-being. I didn't want to be part of the middle-aged pot-belly syndrome anymore. Then on a Vancouver afternoon, it was my good fortune to accept Oswaldo's challenge for fitness and prosperity and I have not looked back since.
-- Don Dofor

________________________________________________________
"...Mastermoves improved my entire body quickly and easily!"
"I am so excited to share with you that Mastermoves is the most effective and easiest exercise system I have ever personally encountered. As a dieting and nutrition specialist, my expertise is in food and emotional eating. I know what works there, but exercise is not my forte. I thought that the more I exercised, the better it would be - but that's not what happened. I was working out over an hour and a half, six days a week and really not seeing any big difference in my body. It left me sweating, drained and disappointed. I got introduced to Mastermoves and this system was so different, so unique and so much fun, that with just half an hour a day and within 4 weeks, I chiseled 2 inches off my waist and hips, firmed up my arms and came down a full dress size. I have been successful in the weight loss field for over 20 years but this is the first exercise program I can wholeheartedly endorse."
-- Cathy Jobs.

"...Mastermoves is something that I would recommend to anyone!"
As an aspiring yoga instructor and a full time university student, I am a very busy person. When I came home from University over Remembrance Day weekend to see my parents, they introduced me to Master Moves. I was feeling fairly comfortable with myself, and my active lifestyle, but as always I was open to trying new things, especially something that I could fit into my busy schedule! I couldn't be happier with the results that I have achieved using Master Moves. For a serious yogini, core strength is essential, and Master Moves has helped me to deepen my yoga practice a great deal. My backbends are deeper, I feel more grounded in my stance, and I feel stronger overall. Having greater core strength gives me greater stability and I am able to safely push my practice to new limits.
Not only am I enjoying the way that Master Moves has helped me evolve in my yoga practice, I am also very happy with the visible results in my body. I have lost some extra pounds that I had previously just accepted. I feel absolutely great. Another wonderful advantage that Master Moves has over other fitness programs is that a student like myself can easily fit it into my schedule. I have fun spinning in my own living room. It just doesn't get better than that!
Master Moves is something that I would recommend to anyone, no matter what their fitness level or situation. For me, it represents a variant of physical fitness that fits into my holistic lifestyle, and that is a rare thing.
-- Samantha Ball

__________________________________________________________
"...I can honestly say that Mastermoves is the best fitness investment I've ever made!"
"I am relatively new to Mastermoves, as I've been using the system for the last three weeks only. The reason why I purchased it was because I wanted to lose some weight and get in shape for the summer. I also wanted to strengthen my back muscles since they were chronically sore. I must say that the system exceeded my expectations in every respect. I love how simple and fun the Master Disk exercise is. In just few weeks of dancing on the disk I've lost 2 inches off my waist. Wow! None of the other weight loss systems I've tried have brought me such quick results. In addition to this remarkable weight loss, the other great benefit I experienced was the strengthening of my core muscles. Thanks to my firm abs and back muscles I can see a tremendous improvement in my body posture. My spine is straighter and my back is not sore any more."
-- Michelle Taylor

_________________________________________________________
"...I am happy to report that I have lost 20 pounds in the last three months and now I am working on my second twenty."
"Throughout my life I have tried numerous regimes, exercise plans, diets, or other tips and tricks. The only program that I have ever come across that is complete in all senses of the word is Mastermoves. It is not really a program, it is a life style. But a life style that does not require a sense of sacrifice or deprivation. Quite the opposite. Once I learned about Mastermoves, and started doing the exercises and following the eating plans, the results were immediate. I am happy to report that I have lost 20 pounds in the last three months and now I am working on my second twenty. I feel lighter, more energetic and more positive about life. Not everyone in my family is concerned about weight loss like I am, but everyone has become a Mastermoves convert and feels better for it. Since I discovered Mastermoves three months ago, the Manual has lived on my kitchen counter. I use it every time I feel like making a healthy meal or quick energy juice. In the preceding months, the effects of my stressful and sedentary job had begun to catch up to me and for the first time I was experiencing symptoms of a deeper fatigue and muscle tightness. In particular my neck, shoulders and lower back were bothering me at the end of each day. This in turn forced me to stop walking and do the outdoor exercises I had always loved. My weekends became an unproductive, wasted time. In this context, I can say that Mastermoves gave me a new lease of life, for which I am grateful to the bottom of my heart!"
-- Nori Valencia
Order Now!
Complete Core Training Set

Weight Loss

CAD$ 149.95

Plus Shipping

Shipped by Canada Post - Expedited Service

Includes:

All "Complete Set" items mentioned above, plus:

Body Conditioning DVD


Core Hydration bottle


One year online coaching for weight loss


30-Day Money Back Warranty