The Power of Relaxation
Techniques to harness the power of your mind and body!

Relaxation rejuvenates the body, mind, and spirit and leaves us better equipped to handle stressful situations when they come. Stress is necessary for life. You need stress for creativity, learning, and your very survival. Stress is only harmful when it becomes overwhelming and interrupts the healthy state of equilibrium that your nervous system needs to remain in balance. We believe that being more relaxed and at ease will help you to deal with life on life's terms and to live the life that you want.
Be thankful for what you have now. Even during any hardship, inner peace will shine through. Inner peace begins with a relaxed body, said Norman Vincent Peale, and this is the goal of The Power of Relaxation. This program is designed to attain a state of increased calmness and reduce levels of anxiety, stress or anger.
The Power of Relaxation will help you promote mental, emotional and physical relaxation. Peace of mind, serenity, creativity and health are descriptions of a disposition free from the effects of stress. To achieve this goal, this program provides the tools and instructions to practice and experience the benefits from various relaxation techniques. Four components will make this program work for you: The Master Massager - The Audio Power of Relaxation - The DVD Instructional Program - The Book Overcoming Obstacles. This program is designed to help you focus your attention on creativity, happiness, success and prosperity.

The Benefits of Relaxation
Relaxation isn't just about peace of mind or enjoying a hobby. Relaxation is a process that decreases the effects of stress on your mind and body. When faced with numerous responsibilities and tasks or the demands of an illness, relaxation is very difficult task to achieve. However, the daily practice of The Power of Relaxation can reduce stress symptoms by:
Slowing your breathing rate

Reducing muscle tension and chronic pain

Slowing your heart rate


Lowering blood pressure


Increasing blood flow to major muscles


Improving mental concentration


Boosting confidence to handle problems

Preventing stress and frustration
Learning to massage and relax your body isn't difficult, but it does take practice. The Power of Relaxation include body massage, breathing techniques, meditation and positive thinking that can help you cope with everyday stress and health problems, such as chronic pain and mental fatigue.
The Real Meaning of Relaxation

Relaxation is perhaps the single most important key to health and well-being. It is the antidote to stress which is known to contribute to the development of disease.
Relaxation gives your body a break and lets it repair the physical damage of stress. Everyone can make better decisions when they are relaxed. You can think more clearly, process information better, and your intuition works best when you are relaxed.
The Power of Relaxation is all about putting stress in its place. And learning to relax. We hope that you, too, can discover the real meaning of The Power of Relaxation.
Taking Back Your Life

We live in stressful times and we are often in a hurry. Many people suffer from the devastating effects of these two problems; muscles pain and spasm in the neck, shoulders, lower back or the whole body are the most common symptoms of modern times, probably even you or someone close to you may be suffering from the effects of hard work and worries.
If you're at a desk all day, muscles may get stiff or sore, but just five minutes of massaging your muscles every few hours is enough to release stress and prevent pain. Keep the Master Massager by your keyboard for quick, easy relaxation time to stave off stress injuries.
The Benefits of Relaxation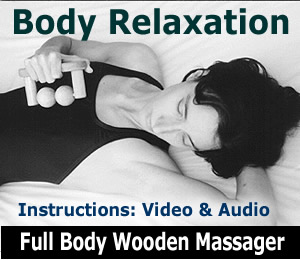 When we relax, our body has an opportunity to unwind. The benefits of relaxation have been well researched and some of these are summarized below.
Gives the heart a rest by slowing the heart rate


Slows the rate of breathing, which reduces the need for oxygen


Increases blood flow to the muscles
As a result of relaxation, many people experience:
better problem-solving abilities


smoother emotions — less anger, crying, anxiety, frustration

The Program Includes:

Video Instructional Program (DVD)
This Mind/Body Program teaches powerful relaxation techniques that will allow you to release stress and perform better in challenging conditions. The program includes a videotape, massager, audio tape and an instructional manual.

Audio Relaxation Program (CD)
With our busy lifestyles and all of the stress we endure every day, it can be difficult to relax. But there is an extremely effective way to relax. Whether it's deep relaxation, increased awareness or the many health benefits associated with meditation you're after, you are about to learn about the quickest and easiest way possible to relax by listening this audio program.

Master Massager
Made of solid wood, this massager helps you eliminate the stress and tension in your body, tones your muscles and gently stimulates the circulation of your body fluids.

Limited Time Special Offer!
Only for the first 50 Orders

Overcoming Obstacles (Hard Copy Book)
In Walking With the Wise for Overcoming Obstacles, we share amazing stories that provide the motivation and inspiration required for your to meet and overcome your daily challenges.
Plus 20 of our best collection of e-books
Here is a small example our e-books collection on Success & Prosperity:

Bonus 1: Creative Mind by Ernest Shurtleff Holmes!


Bonus 2: The Ideal Made Real by Christian D. Larson

Bonus 3: The Art of Money Getting by P. T. BarnumMarden


Bonus 4:The Science of Getting Rich by Wallace D. Wattles

Bonus 5: Power of Will Smart by Frank Channing Haddock, M.S., PH.D.
Order Now!

LIMITED OFFER!

The Power of Relaxation:
$39.95 US + S&H


Regular Price: $59.95

All prices are in US Dollars. We accept Visa, Mastercard, Discover, and American Express credit cards. Your order is processed via a secure online server provided CCNow.

Your information is encrypted and totally secure.

Final Note About Relaxation

A variety of different relaxation techniques can help you bring your nervous system back into balance by producing the relaxation response. Relaxation isn't just about peace of mind or enjoying a hobby. Relaxation is a process that decreases the wear and tear of life's challenges on your mind and body.

This program is a great way to help you produce the relaxation response to manage daily stress. The relaxation response is not lying on the couch or sleeping but a mentally active process that leaves the body relaxed, calm, and focused to
use the most of your mental and physical faculties.

Whether you are a student, an employee, an entrepreneur, or a busy parent, you can benefit from learning relaxation techniques that will help you harness the power of your mind, tap into your creativity, improve your self-image and develop a happy and prosperous life!


Scroll Down to Order Now!

Benefits

Product Contents

Warranty

Testimonial

Return Policy

Money Order

Shipping Information