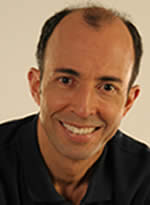 As an engineer and inventor, he knows well the process between prototype and going into manufacture. He knows how to avoid the costly mistake that some novice inventors make where they end up with a house full of product that they are unlikely to sell.

After completing his MBA, Oswaldo became an expert product development and marketing based on intuition, strong analytical and problem-solving skills. As a project manager, he has achieved exceptional leadership and communication skills. Oswaldo has a passion for all aspects of product development from conception to refinement.
During his studies in the naval academy of Peru, he learned the art of proper nutrition and a great variety of fitness disciplines including boxing, gymnastics, self-defense, sailing, swimming, and diving. Later, Oswaldo trained in martial arts, free diving, dancing, yoga, tennis and marathon running.