PERSONAL COACHING
"FITNESS IS NOT ABOUT BEING STRONG; IT IS ABOUT BEING PRODUCTIVE."
-- Oswaldo Koch
Are you looking for a marketing experts who can speak on a variety of marketing topics, including product planning, branding, Internet marketing, tradeshow and TV marketing? If so, we can help you.
Are you looking for an Executive Business Coach who can educate and teach yourl employees to work together as a team and achieve aggressive revenue and profit goals? If so, we can help you.
As a program meeting coordinator or planner, you can be assured of a lively speaker who understands her topic inside and out. You audience will get a presentation customized to their industry, one that addresses the business challenge faced today – along with easy-to-implement strategies they can begin using immediately.
Hire Oswald Koch to give a half-day workshop. We'll develop a customized and interactive presentation geared toward your company and industry that will help your team learn how to implement practical strategies quickly and easily.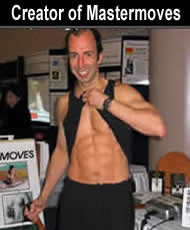 Who is your Coach?
Oswaldo is an industrial engineer, fitness trainer, inventor, MBA, and IT expert. The author of the book The Core Challenge, Oswaldo has been featured on major TV shows such as the CBC's Dragon's Den, the Shopping Channel, Studio 4's Fanny Kiefer and Urban Rush.
Oswaldo became an expert in core muscle development while healing a painful back injury that
put him at risk of becoming a paraplegic. Oswaldo Koch speaks to any organization looking to achieve
high productivity. Drawing upon three years in the navy and over twenty years of corporate experience in both high-tech, manufacturing and human resources, his client list includes some of the largest corporations, small businesses and nonprofit organizations. His presentations are thought provoking and practical. He speaks with passion, and his message is clear:

We have done all the work!. Core Training combines the best core exercises in a simple routine that you can practice any time and anywhere. Core Training will help you rotate your lower body through a controlled range of motion while keeping your upper body stable. Additionally, the floor exercises will help you keep you back in perfect alignment while exercising your abdominal and shoulder muscles.
THE COMPANY
OK Initiatives Inc. is a privately held Canadian owned and operated company that has been providing business and wellness solutions to the market place since 1995. Currently, we are the manufacture and distributor of the Mastermoves Core Training program.

Company Name: OK Initiatives, Inc.


Address: 2543 West 2nd Avenue, Vancouver, B.C., V6K 1J7 Canada


Telephone: (604) 742-1120


Fax: (604) 642-6231


E-mail: info@mastermoves.com