WOW! I twisted away 26 pounds and 2 inches in just 3 months!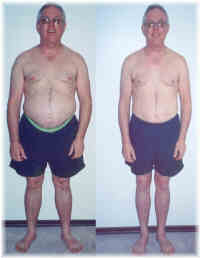 As a 51 year old office worker, tied to a desk, I found that I was gaining pounds. Off and on, I tried dieting, but realized that the popular diet programs and exercise plans did not work long term. I was looking for a new way out, especially after seeing myself in a family celebration photo and realizing that I did not like what I saw. The years of indulging in food, drink and good times were taking their toll on my health and personal wellbeing. I didn't want to be part of the middle-aged pot-belly syndrome anymore.

Then on a Vancouver afternoon, it was my good fortune to accept Oswaldo's challenge for fitness and prosperity and I have not looked back since.

I began using the disk and rod conditioning exercises for 15 minutes twice a day. It was amazing to see the simplicity and ease of the program and my motivation stayed high as I started to experience results. Importantly, I also enjoyed drinking the breakfast fruit juice every morning along with a vegetable cleansing juice for dinner every other night. It soon became a psychological habit, not a struggle, to pass by the fridge and grab a sip of water instead of a snack. The pounds started draining away. I felt incredible!

Over the next three months I began to enjoy several more benefits. My clothes that had become tight were feeling comfortable again. I had to put new notches in my belt! I started to receive compliments on my appearance and people asked what I was doing right. The simple answer always was, "I'm doing the twist, man!" In a short time frame, even at special events like Christmas, I was able to enjoy all food and drink without guilt because I could readjust by alternating meals next day with the juice program and the Mastermoves exercises. An added benefit was that I could take the disk and rod in my suitcase everywhere I went, even on holidays. All of this continued to focus on a simple and effective way to exercise daily, strengthen the core muscles, and stay on the health and fitness mission.

Yes, it's true that I have successfully met my goals, enjoyed many benefits already and highly recommend this program. However, I believe, with absolute confidence, that the life-long benefits in the future will be invaluable. I have incorporated more fresh fruits and vegetables into my diet which is a natural weight control with numerous other healthy benefits. The results, the ease and low cost of this program will ensure that I will continue the Mastermoves program well into a strong and vital future.

Mastermoves has improved my self-esteem and enhanced my performance in many areas, even including recently winning a "twisting dance competition!"
Many thanks, Oswaldo.

"...Mastermoves represents all essential elements of fitness."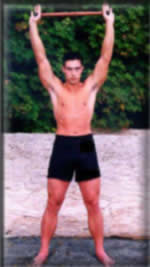 Everybody has a passion in life. For me, that passion is fitness. There is nothing that I would rather do than to train my body to be in excellent condition for the rest of my life.
I have experimented with many different body-training methods. Each method focused on one specific aspect of fitness like muscular strength, endurance or flexibility. However, to train your body properly, it is necessary to include all these aspects of fitness in one training program; that's the great thing about Mastermoves - it represents all essential elements of fitness. Now that I train daily with Mastermoves, my physical fitness program is complete.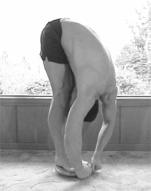 Mastermoves is a balanced training method that compliments any lifestyle. I have found the training techniques to be very effective and easy to integrate in daily routines. I am more in tune with my body and I have a better understanding of what my body needs. Mastermoves routines and meal plans allow me to maintain a lean, healthy and efficient body.
Together with discipline and determination, Mastermoves is all that you need to develop the best condition for your body and mind. The rest is up to you.
Jamie Beuthin
Fitness Trainer

"...I got rid of my pot belly and
improved my overall fitness level."
"As a 40 year old businessman, I don't have much time to exercise. As a result I put on a few extra pounds throughout the years and started growing a pot belly. I wanted to get in shape but I just didn't have time to go the gym or jog in the morning. What attracted me to Mastermoves was that it required only 15 minutes of my time, twice a day. I managed to incorporate the exercises effortlessly into my daily routine. I found the exercises quite energizing and refreshing and soon I was actually looking forward to my next workout.
D.R.
______________________________________________________________
"..Mastermoves is the first exercise program I can wholeheartedly endorse. "
I am so excited to share with you that Mastermoves is the most effective and easiest exercise system I have ever personally encountered. As a dieting and nutrition specialist, my expertise is in food and emotional eating. I know what works there, but exercise is not my forte. I thought that the more I exercised, the better it would be - but that's not what happened. I was working out over an hour and a half, six days a week and really not seeing any big difference in my body. It left me sweating, drained and disappointed. I got introduced to Mastermoves and this system was so different, so unique and so much fun, that with just half an hour a day and within 4 weeks, I chiseled 2 inches off my waist and hips, firmed up my arms and came down a full dress size. Mastermoves is the first exercise program I can wholeheartedly endorse.
C.G.
______________________________________________________________
"...I lost 24 pounds and 3 inches off my waist in the last two months."
"Thanks to Mastermoves I lost 24 pounds and 3 inches off my waist in the last two months. I have gone from having a 34 inch waist to a 31 inch one. Now my 18 year old son has a larger waist than me. You should have seen his face when I showed him my flat stomach. Pretty good for a fifty-year-old guy!!! However, the greatest benefit from using the Mastermoves system was the change in my energy level and the ability to be more physically active. The Mastermoves eating plans made a big difference in that respect. Once a rabid fast food carnivore, for the first time in my life I am following a sensible eating regime. I have increased my intake of fruits and vegetables and feel great. Don't get me wrong, I still eat meat and will have some fast food once in a while, but I don't feel the need or taste for them that much anymore. If the long term effects of this change in eating are similar to the amazing short term effects, then I am truly thankful to Mastermoves as I look forward to better health, less illness and disease and a longer, more enjoyable life."
R.L.
"...it helped me to strengthen my body and lose weight without putting excessive time."
"I am a Graphic Designer and spend most of my time during the day in front of the computer. The lack of sufficient activity caused me to gradually gain weight and my muscles vanished behind a thick layer of fat. But that wasn't my biggest problem. Years of sitting improperly and slouching on my chair led to a misalignment and inflammation in my spine, which was causing me a great deal of pain. There were days when I couldn't work or sleep without taking a few painkillers. Going to the Chiropractor only brought me temporary relief; I needed to exercise in order to strengthen my back muscles and bring my spine into alignment. I couldn't really lift weights because of my back pain, so decided to give Mastermoves a try because it promised to strengthen my body and help me lose weight without putting excessive stress on me. To my delight one month after starting the exercise program my back pains vanished and my posture improved. My greatest surprise, however, came at the end of the third month when I found out that I've lost 30 pounds and dropped 2 pant sizes. Thanks to Mastermoves now I feel like a new man. Thank you Oswaldo!
L.T.
"...I am happy to report that I have lost 20 pounds in the last three months"
Hi Oswaldo, throughout my life I have tried numerous regimes, exercise plans, diets, or other tips and tricks. The only program that I have ever come across that is complete in all senses of the word is Mastermoves. It is not really a program, it is a life style. But a life style that does not require a sense of sacrifice or deprivation. Quite the opposite. Once I learned about Mastermoves, and started doing the exercises and following the eating plans, the results were immediate. I am happy to report that I have lost 20 pounds in the last three months and now I am working on my second twenty. I feel lighter, more energetic and more positive about life. I can say that Mastermoves gave me a new lease of life, for which I am grateful to the bottom of my heart!
N.V.
"...Mastermoves exceeded my expectations in every respect."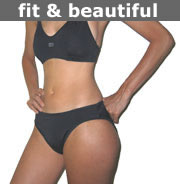 Oswaldo, I love the Mastermoves training. I've been using the system every morning for the last four years. The reason why I got it was because I wanted to firm and flatten my abdominal area and develop core muscle endurance. I also wanted to strengthen my back muscles since they were chronically sore from many year playing tennis and studying four university degrees. I must say that the system exceeded my expectations in every respect. My spine is straighter and my back is not sore any more. I can honestly say that Mastermoves is the best fitness investment I've ever made.
N.M.
WHAT LEADERS HAVE SAID ABOUT MASTERMOVES

"Impressive! In my 25 years of practicing and teaching martial arts, I've never seen such an easy, complete, and effective training system as Mastermoves."
Jon Funk, Kung fu Master President, Mantis Enterprises
"I am astounded at what I have achieved with my Mastermoves training. I used to train 10-15 hours per week for cross-country skiing & running. Now, to stay in great shape, I just need to exercise 15 minutes twice a day."
Darrell Ross, BPA, President, BNIMarketing
"The most effective and easiest fitness program I have experienced! At the age of sixty-one I had several small strokes that left me with almost no use of my left arm and leg. After about two months of training with Mastermoves, my muscle mobility and tone is better than it has been for years. Mastermoves works!"
Anne Kramer, CEO Current Technology Corporation
"With over 30 years of experience as a health and fitness educator and transformation coach, I have had the opportunity to use and to research many fitness programs. Without a doubt, Mastermoves has no counterpart in the field of fitness today!"
Dotti Berry, BA and M.Ed.in Health and Fitness; President, IMPACT Communications
"Fantastic! Mastermoves improved and benefited my entire body quickly and easily! I have been successful in the weight loss field for over 20 years and this is the first and only fitness program that I have ever endorsed."
Cathi Graham, Founder, Fresh Start Metabolism Program