Body Conditioning - Reexamined
Body Conditioning will provide you with the opportunity to improve your posture while strengthening and toning your muscles at the same time. Whether suffering from regular low back pain or recovering from surgery, the best way to avoid or minimize the risk of back pain recurrences is to rehabilitate the back through proper nutrition and appropriate back exercises to develop a strong and flexible core. With this in mind, you will learn to feel taller, younger and more confident.

The Body Conditioning Program is a simple exercise routine and detoxification practice to improved normal performance, as in physical therapy, or in preparation for sports performance. To get good fitness results, you do not have to submit to a regime of tortuous forced reps or injury-inducing high intensity workouts. The Body Conditioning Program is designed to develop natural fitness and to correct postural imbalances that can lead to injuries.

Back problems facts
"Back injuries account for nearly 20% of all injuries and illnesses in the workplace in North
America." - The National Institute for Occupational Safety and Health

"Chronic back pain is said to account for more than $2.5 billion lost to the British economy
each year" - The British Medical Journal

"Cardiovascular Disease (CVD) continues to be one of the leading causes of death and
morbidity among adult." - Canadian Association of Cardiac Rehabilitation

"Excess weight and lack of basic abdominal strength put extra stress on the lower back;
back injuries are still the second leading cause of work absenteeism."
- The National Institute for Occupational Safety and Health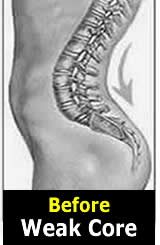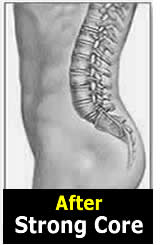 Mastermoves Body Conditioning combines alternating segments of upper and lower body strength exercises for an energizing, NON-cardio type of workout, using the Power Disk and the Focus Bar as tools for alignment, flexibility and coordination. After 2 weeks of practicing Body Conditioning, every person can gradually achieve optimal fitness through a process of exercising with more advanced exercises routines.
Core conditioning pillars.
Body Conditioning is designed to improve fitness through the following 3 pillars of fitness:

1. Core Conditioning - This strength and conditioning program focuses on your needs to realign and strengthen your back and neck before more advanced exercises. The program will be practice every day for 15 minutes to strengthen the your weaknesses and achieve optimal strength and conditioning results to prevent injuries. After 2 week you will assess your fitness condition by following the Body Toning program. After completing Body Toning you will decide if you are ready for this level of fitness.

2. Core Nutrition - During your first 28 days of training with Mastermoves, you need to follow the detoxification program as indicated in your instructional manual. Every week you will be following a new nutritional habits into their lifestyle while maintaining the week's previous habits. Over time you will developed a habit of eating and drinking the proper nutrients to produce results.

3. Rest and Recovery - 8 hours of sleep is required to wake up each day, fully recovered and energized. You should feel ready to take action and win the day.

With Mastermoves, you can practice the most simple and effective Body Conditioning program at home, office, gym or hotel - anytime and anywhere. You exercise 15 minutes each morning and 15 later in the day, and in few days you will improve your muscular symmetry, strength, coordination and speed - all the conditions required for your body to perform optimally, physically and mentally.
Whatever your goal - muscle up, slim down, burn fat, gain energy - Body Conditioning will help you get fit and stay on track with your fitness goals. The biggest benefit of Body Conditioning is to gradually develop functional fitness - that is, fitness that is essential to keep your muscles and posture in good shape for both daily living and regular activities such dancing and sports.
Core Conditioning benefits.
People who suffer from lower back pain are encouraged to help with their own recovery by exercising and getting physical therapy, but are seldom given the knowledge and tools needed to accomplish this. The Body Conditioning program will provide a simple and effective exercise routine to develop basic core strength to be able to restore mobility and strengthen your back.

Some of the main benefits of Body Conditioning are:

Builds Strength - You have multiple muscle groups in your back: lats, traps, the core erector muscles along your spine and many more. These muscles allow you to do your daily activities.

Relaxes Your Back and Reduces Pain - Core strength is not only imperative in the healing but the prevention of back pain. The best way to prevent back pain is through regularly exercising your back.

Promotes Balance & Coordination - Strengthens and improves the torso's stabilization.

Increases Flexibility - Core strength increases your range of motion and improves your muscular endurance. Keeping your back flexible enough to execute your daily activities without stressing your back muscles makes it easier to maintain a healthy activity level.

These benefits alone should be reason enough to motivate any person to include core training in their fitness program. Body Conditioning exercises increase the fitness of the your body, whether through building muscles, burning fat or increasing the efficiency of your joints and ligaments.
Rehabilitation and Exercise for a Healthy Back

- Body Conditioning DVD

Unlocks tight muscles and joints
Prepares the body for advanced routines
Improves posture
Alleviates sore muscles
Preserves mobility as you age
Improves range of body motion



- Body Toning DVD

Increases metabolic rate
Improves agility
Improves balance
Rejuvenates your body
Improves body posture
Improves sport performance
Improves coordination


ORDER DVD SET

- Body Conditioning & Body Toning
$19.95 US + S&H


All prices are in US Dollars. We accept Visa, Mastercard, Discover, and American Express credit cards. Your order is processed via a secure online server provided CCNow.

Your information is encrypted and totally secure.