CITRUS JUICE (1 SERVING)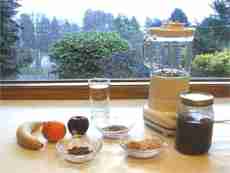 Prevents stress, fatigue and weakness. It supports healthy blood pressure.

Vitamin C helps the production of a protein that gives structure to bones, cartilage, muscles and blood vessels.

Vitamin C is an antioxidant found in citrus fruits that plays a role in wound healing.

Increased intake of vitamin C is linked to a reduced risk of cancer of the cervix, stomach, colon and lungs. It also reduces LDL oxidation which causes plaque building in arteries.
Ingredients:
Orange, peeled, seeded and quartered (1)

Pineapple chunks (1/2 cup - 120 ml.)

Brown sugar (2 tablespoons)
Directions:
Peeled, seeded and quartered the lemon and any other fruits into pieces and blend them with the water until smooth ( 2 minutes approx..)

Add the brown sugar and Simple Cereal to the mix and blend for another minute.

Enjoy the natural flavors!
Copyright © 1999-2011 by OK Initiatives
All Rights Reserved