SIMPLE SERIAL (4 SERVINGS)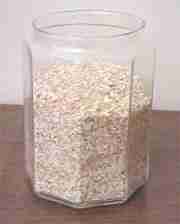 Benefits:
Provides most of the recommended fibers (20 to 35 grams per day). Which are important for lowering the risk of colon cancer and high cholesterol. Fibers also slow the rate at which your stomach empties, so you don't overeat.
Ingredients:
Almonds (1 cup)
Sunflower seeds (1/2 cup)
Oats (2 cups)
Wheat Bran (1 cup)
Directions:
Put all the ingredients in a blender or a food processor.
Blend until ingredients are finely chopped.
Enjoy the natural flavor!
Copyright © 1999-2011 by OK Initiatives
All Rights Reserved