"... As I head into my 50's I find I need exercise…!"
Congratulations to Master Moves for a clever, practicle and excellent means of getting even the most stoic couch potatoes to get up and get moving. I have been an active person all my life but now, as I head into my 50's I find I need to step up my excersize in a more deliberate way. I've added Master Moves routines to my daily drill and really appreciate how easy it is to fit into even the busiest of days. Great fitness program!

My thanks for your help.

Heather Softley
"... I lost 11" total and 2 dress sizes…!"
Hi, first of all I would like to start by saying that when I first started with the Master Moves Program I was a tad skeptical on what I could actually achieve in the first 7 weeks, it was very inspiring to hear the wonderful testimonials saying that I can lose a few dress sizes and lots of inches in these 7 weeks while continuously training and learning the Master Moves system. Being a Wife, Mother and Running my own business I found working with the Master Moves System, Fun, Easy and most of all portable, oh and did I say FUN, it actually feels like your dancing and I have never got board or felt like it was not challenging enough to feel like an amazing work out.I found the exercise fun and actually felt the work out with-in the couple of minutes, and I loved the idea that I could do this in my own home and did not have to go to the gym everyday and do that strenuous work out. Now, I am more focused to actually doing the exercise and my two year old dances along side of me while mommy is exercising and he is getting some exercise as well.
Deborah Gillam
"...I lost 3.5 inches around my tummy!"
"We started the Master Moves on April 4, 2008 and just finished. We tried to count approx. 100 days. I wasn't sure as to how to take the before and after pictures, so what I'm sending you is of course amateur pictures.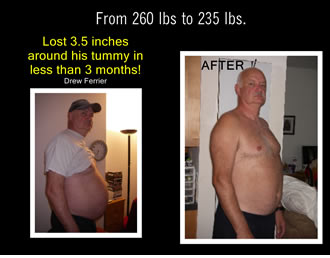 Drew stepped on the scale in April, at 260 lbs, and his tummy (around the biggest part) was 50 and 1/2 inches. He stepped on the scale today and was 235 lbs (and extremely happy), and his tummy was 47 inches. HE was even shocked as he said he couldn't believe it. All previous DIETS never did work nor did they keep the weight off. We did the Master Moves"almost" faithfully every day, 100 - 200 twists every morning and every night. If you need more information, please don't hesitate to let me know. Thanks again and we await your reply."
-- Drew and Julie Ferrier
You will change how you feel, not just how you look!
The Master Moves system is easy, fun, and portable, otherwise I wouldn't do it. I don't have time in my life for things that are not fun.
I can't believe the results I got 7 weeks of Core Training, was able to stand up and have fun and see better result from getting on the floor and doing crunches or sit-ups. I lost 10.5 inches all over my body.
Master Moves is a great piece of equipment and a great program because is easy to use and easy to follow along. It's everything you need in an exercise program.
Ariane Jaschke
"I have fun spinning in my own living room!"
I couldn't be happier with the results that I have achieved using Master Moves. As an aspiring yoga instructor and a full time university student, I am a very busy person. I have fun spinning in my own living room. It just doesn't get better than that!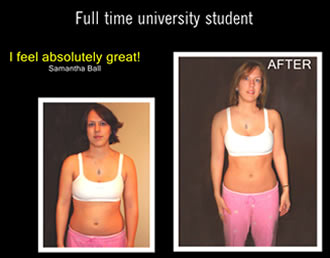 Mastemoves is something that I would recommend to anyone, no matter what their fitness level or situation. For me, it represents a variant of physical fitness that fits into my holistic lifestyle, and that is a rare thing!
For a serious yogini, core strength is essential, and Master Moves has helped me to deepen my yoga practice a great deal. My backbends are deeper, I feel more grounded in my stance, and I feel stronger overall.
Having greater core strength gives me greater stability and I am able to safely push my practice to new limits. Not only am I enjoying the way that Master Moves has helped me evolve in my yoga practice, I am also very happy with the visible results in my body. I feel absolutely great.

-- Samantha Ball
You will be successful as you plan to be!
I am so thankful for Oswaldo Koch and Master Moves, my life has been changed and will never again be the same thanks to them!
I never would have believed it. I would have thought it was just another workout plan I would fail at. But I tried it and it was amazing. Who would have thought that something so basic, simple and fun could have such profound results! Try it and amaze yourself!!!!
-- Cindy Morris
"I was absolutely SKEPTICAL..."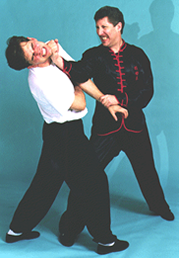 "Impressive! In my 25 years of practicing and teaching martial arts, I've never seen such an easy, complete, and effective training system as Master Moves I can train my core at home playing with my children, at the office during my break or at my martial arts studio.
With Master Moves, people no longer have excuses for not living life in optimal shape!"
-- Jon Funk, Kung fu Master; President of Mantis Enterprises
"...You are SO charismatic, entertaining and motivational but most importantly truthful!"
Dear Oswaldo, you just made my day!! I am SO excited about this program and I am so motivated to take better care of myself after years of taking care of everyone else!

After reading your book ( you are a very talented writer!) I decided to pick myself up and be good to myself. I've invested in your program and I believe it is the best investment that I have ever made...an investment in my health. Had I not been flipping channels and come across you on TSC, I would have missed out on someone who I found to be so very inspirational!

I was glued to the set while you were on! :) Any show that you have, or all of them, I'll watch over and over as I'm doing my core training! I know that everyday I can make time for this and I already am! My teenage daughter is now showing interest as well!

You are SO charismatic, entertaining and motivational but most importantly truthful...and I can't wait to read your newsletters Oswaldo!

Thank you again and I will let you know how the first 100 days change my life!

Sincerely,

-- Carrie Beneteau
Keeping your goal in sight will help you succeed!
With only having to exercises 15 min in the morning and 15 min in the evening, it went fast and in just 7 weeks of training I lost 11" total and 2 dress sizes…So yes I do know this works and looking forward to almost reaching my goal within the next month.
So I am now on the 100 day challenge and looking forward to loosing the next 20 lbs…… I will have finally reached my goal and be at a weight I have not been at since I was in my 20's…YIPPY!
-- Deborah Gillam
"...Master Moves represents all essential elements of fitness."
Master Moves represents all essential elements of fitness. Now that I train daily with Master Moves, my physical fitness program is complete.

Master Moves is a balanced training method that compliments any lifestyle. I have found the training techniques to be very effective and easy to integrate in daily routines. I am more in tune with my body and I have a better understanding of what my body needs. Master Moves routines and meal plans allow me to maintain a lean, healthy and efficient body. Together with discipline and determination, Master Moves is all that you need to develop the best condition for your body and mind. The rest is up to you."
-- Jamie Bouthin, Fitness Trainer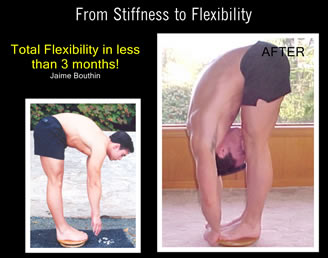 "...easiest program I ever used"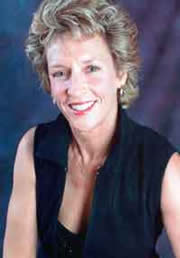 "With over 30 years of experience as a health and fitness educator and transformation coach, I have had the opportunity to use and to research many fitness programs.
Without a doubt, Master Moves has no counterpart in the field of fitness today!"

-- Dotti Berry, BA and M.Ed.in Health and Fitness;
President, IMPACT Communications
"...Master Moves exceeded my expectations in every respect."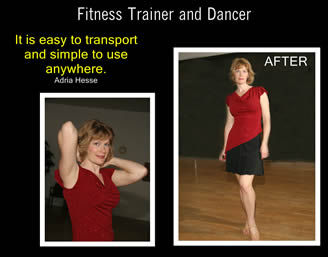 "The value of maintaining rotational movement throughout the entire spinal column cannot be understated. Vitality is achieved when the spine is flexible, thus allowing for the spinal cord to function at optimum.


Master Moves is a great tool to help you achieve both. It is easy to transport and simple to use anywhere. Practicing Master Moves daily will restore flexibility and stability as well as enhance coordination. Twist away!"
-- Adra Heese, Fitness Trainer, Dancer.
"Long story short, our family is going to be one of your great success stories!..."
"We have never felt so good! We noticed a difference in our energy levels, our mental outlook, and were so excited that after only 2 weeks we were already seeing a difference in our physical appearance. Five weeks have passed, and we look forward to our Master Moves routine each day, and to seeing great changes in our bodies. Kelly has had a great improvement in his stomach, he is developing a nice 6-pack working towards a nice stomach like you! His love handles are slowly disappearing, and he is feeling great!
I have noticed a great change in my stomach and legs that is really exciting, and my arms are firming up. Our daughter came home from University last weekend and took one of the sets back with her. She has been using it for a week and absolutely loves it. She is very health conscious and very into Yoga. She is planning to take Yoga teacher training this summer on Saltspring Island, and thinks once she is teaching, it would be a great thing to incorporate into her routine.

I have lost 1 1/2 inches from my waist and an inch from the top of my legs. My posture has improved immensely, and we both notice a change in the way we carry ourselves, more confident and positive. We are looking forward to seeing the results after 100 days!"
-- Debbie, Kelly & Samantha Ball, Abbotsford Canada
Try it and amaze yourself!!!!
I am a mother of four and also work part time. For years I struggled with self-esteem issues even when I never struggled with my weight. I was always actually on the slimmer side. Then after four children I really did struggle. I weighed 210 pounds the day my last son was born. I tried so many different exercise programs and worked so hard with very little results. It was so frustrating and I began to struggle even more with self esteem.
My chiropractor, told me that I should look into core strengthening and that my chronic back pain and need for alignments so often were possibly a result of my abdominal surgery. So I searched and found MASTER MOVES. I was ready to commit and set my goals: I really wanted to strengthen my core, gain good posture and have my life back with my family. If I could loose weight too that would be a bonus. Well I was surprised and amazed. It was fun, the easiest and most rewarding time of my life. In just 7 weeks I lost 11.5 pounds and 10 1/4 inches all over and gained a new appreciation for myself and my family.
-- Cindy Morris
"...easiest program I ever used"
"I was convinced after the first day ..."
"Fantastic! Master Moves improved and benefited my entire body quickly and easily! I have been successful in the weight loss field for over 20 years and this is the first and only fitness program that I have ever endorsed."
-- Cathi Graham, Founder, Fresh Start Metabolism Program
"...it helped me to strengthen my back and lose weight without putting excessive time."
"I was convinced after the first day ..."
"I am a Graphic Designer and spend most of my time during the day in front of the computer. The lack of sufficient activity caused me to gradually gain weight and from slouching on my chair led to a misalignment and inflammation in my spine.
To my delight one month after starting the exercise program my posture improved and I lost weight - my back pain is gone!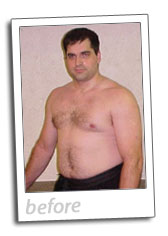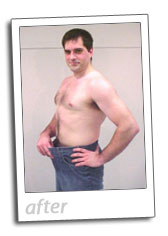 -- Leigh Tingle
"...I can do my exercises anywhere and any time!"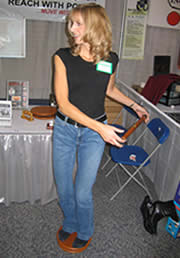 Real People... Real Results!
"I love it! I have been using Master Moves now for over a year and I haven't missed one single day of exercise. My "gym" now consists of 2 tools that are both portable and easy to use.

I can do my exercises anywhere any time -15 min. twice a day is a manageable exercise program for my busy life style.

-- Frances Preissl, Executive Assistant
"...I got rid of my pot belly and improved my fitness level."
"As a 40 year old businessman, I don't have much time to exercise. As a result I put on a few extra pounds throughout the years and started growing a pot belly. I wanted to get in shape but I just didn't have time to go the gym or jog in the morning. What attracted me to Master Moves was that it required only 15 minutes of my time, twice a day. I managed to incorporate the exercises effortlessly into my daily routine. I found the exercises quite energizing and refreshing and soon I was actually looking forward to my next workout.

-- D.R.
You will be successful as you plan to be!
In North America, people spend an estimated $50 billion dollars a year on fitness equipment and health club memberships, yet the number of overweight people continues to rise. Why?
Because not every program is right for every body. You must know how to choose the right plan that will work for you and your lifestyle.
To see results, you must commit to a balanced exercise plan that is consistent and right for you and your goals
"..Master Moves is the first exercise program I can wholeheartedly endorse. "
"I am so excited to share with you that Master Moves is the most effective and easiest exercise system I have ever personally encountered. As a dieting and nutrition specialist, my expertise is in food and emotional eating. I know what works there, but exercise is not my forte. I thought that the more I exercised, the better it would be - but that's not what happened. I was working out over an hour and a half, six days a week and really not seeing any big difference in my body. It left me sweating, drained and disappointed. I got introduced to Master Moves and this system was so different, so unique and so much fun, that with just half an hour a day and within 4 weeks, I chiseled 2 inches off my waist and hips, firmed up my arms and came down a full dress size. Master Moves is the first exercise program I can wholeheartedly endorse."

-- C.G.
"...I lost 24 pounds and 3 inches off my waist in the last two months."
"Thanks to Master Moves I lost 24 pounds and 3 inches off my waist in the last two months. I have gone from having a 34 inch waist to a 31 inch one. Now my 18 year old son has a larger waist than me. You should have seen his face when I showed him my flat stomach. Pretty good for a fifty-year-old guy!!! However, the greatest benefit from using the Master Moves system was the change in my energy level and the ability to be more physically active. The Master Moves eating plans made a big difference in that respect. Once a rabid fast food carnivore, for the first time in my life I am following a sensible eating regime. I have increased my intake of fruits and vegetables and feel great. Don't get me wrong, I still eat meat and will have some fast food once in a while, but I don't feel the need or taste for them that much anymore. If the long term effects of this change in eating are similar to the amazing short term effects, then I am truly thankful to Master Moves as I look forward to better health, less illness and disease and a longer, more enjoyable life."

-- R.L.
"...I am happy to report that I have lost 20 pounds in the last three months"
"Hi Oswaldo, throughout my life I have tried numerous regimes, exercise plans, diets, or other tips and tricks. The only program that I have ever come across that is complete in all senses of the word is Master Moves. It is not really a program, it is a life style. But a life style that does not require a sense of sacrifice or deprivation. Quite the opposite. Once I learned about Master Moves, and started doing the exercises and following the eating plans, the results were immediate. I am happy to report that I have lost 20 pounds in the last three months and now I am working on my second twenty. I feel lighter, more energetic and more positive about life. I can say that Master Moves gave me a new lease of life, for which I am grateful to the bottom of my heart!"

-- N.V.
The Story Behind Master Moves Core Training
Imagine suffering a nearly fatal mountain biking accident, fracturing your neck and after enduring a painful head brace, without exercising for 1 year, developing an amazing fitness condition - a beautiful, flexible, fast and strong body in just 3 months of training - I did just that.

"My doctors told me that I would never be able to play sports again. However, after healing my neck, it took me 3 months of training with Master Moves to regain strength, full range of motion and better shape than before my accident. Now, fully recovered, I'm back to tennis, diving and martial arts ...mountain biking?...no thanks."O.K.
For about 30 years, I have been researching and trying different fitness philosophies. However, it took a tragic mountain biking accident for me to realize that CORE TRAINING is the most fundamental training for optimal fitness.

I refined the Master Moves training program by combining techniques from a variety of fitness philosophies that I had been experimenting. Because of my weak condition and sensitive spine, my training had to be low-intensity.
The fitness results were amazing. In just three months of CORE TRAINING with Master Moves, I developed a beautiful, flexible, fast and strong body. Since then, thousands of others have benefited from the Master Moves CORE TRAINING program. Now is your chance to transform your body too!

Warmest Regards,


Fitness Trainer, MBA, P.Eng.