© Copyright 2007
OK Initiatives, Inc.
1995-2007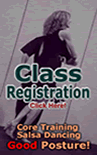 Salsa Lesson Vancouver

Weight Loss Exercises For Men and Women
Special Offer - Members Only
Get Lean Faster Than Ever!
How to Lose Weight & Burn Fat Fast, Naturally By Cleansing, Detoxifying and Exercising Your Body Sweat Free!

Even if you've Never Succeeded at Losing Weight before... Even if you have Stubborn Fat Deposits that don't seem to budge... Even If You have low self-esteem, The Core Weight Loss Program® will make you Leaner and Stronger faster than you ever thought possible!

With all of the weight loss programs and fad diets popping up almost every day. I would like to introduce you to a new common sense concept that can drastically improve your health & well being and as a terrific side-effect, help you quickly lose weight naturally and healthy.

How many of these statements are true about you?

I want to lose some weight and I've tried dieting in the past but nothing seemed to work.
I know I can be slimmer and have a fit body but I just can't make myself go to the gym every day.
I wish someone created an easier and quicker way to tone my body and get the slim figure I've always wanted.

If you answered "yes" to any of the above statements, keep reading because we've got the answer you've been waiting for. Finally, there is a way to make losing weight and toning your body easier for folks just like you. It's taken me over 25 years and hundreds of thousands of dollars to develop this one-of-a-kind, effective weight loss system and the result is finally here. The good news is that you can lose weight and develop your core muscles exercising 10 to 15 minutes a day. Here are some of the most important exercises that your can practice at home, work, hotel... anywhere.

- Video Clip: Core Training Beginners Class





Introducing Mastermoves - a fitness system combining elements of yoga, dance and gymnastics that can be done from the comfort of your home.


With its innovative, low-intensity exercise routines and healthy eating plans, the Mastermoves system can help you tone your muscles and lose weight so you can finally get the slim figure you've always wanted.

But that's not all. In addition to toning your body and losing weight, by practicing Mastermoves you will:

Improve your health and self-esteem
Raise your energy level
Improve your body posture

The great thing is that you can have this great body without having to go to the gym and torture yourself. In fact going to the gym can never do what Mastermoves can do for you.

Unlike training in a gym which can be boring and tedious, with Mastermoves you can enjoy fun and invigorating exercises. Instead of laboring for hours on the stair master or the thread mill, with the Mastermoves low-intensity exercises you can lose weight without breaking a sweat.

Rather than having to drive to the gym and then wait for machines, you can do the Mastermoves exercise routines in the comfort of your living room for a fraction of the time. Instead of feeling tired and drained after a gym workout, your 15 minute Mastermoves practices will leave you refreshed and charged with energy.

But what exactly is the Mastermoves system and how does it achieve these amazing results?

The success of the Mastermoves system stems from a number of secrets which I have discovered while supervising the kitchen of the naval academy and through years of research and experimentation with martial arts, yoga, dancing and sports. They are also the guiding principles upon which the system was built. Here are just three of the 10 secrets that will share with you in the Core Weight Loss Program® program:

Secret #1: The first step towards your fitness success is to set your fitness goals and create a fitness mind-set. The weakness of most fitness programs out there is that they underestimate the power of intention. Successful people are intensely goal-oriented; they have the ability to identify what they want, make a plan to attain it and use the best tools, resources and strategies to achieve their goals. As in any project, you can have the best plan, tools, and strategies at your disposal, but if you have a poor mindset, the plan, tools, and strategies will not do much good. The Mastermoves manual will guide you step-by-step in setting your fitness goal and creating the right mind-set to ensure your day-by-day fitness success.

Secret #2: In the long term, the most effective fitness exercises are the ones that do not put excessive stress on the body and are performed for short periods of time throughout the day, every day. Unfortunately we take the wrong approach when we sit in our offices all they long and then try to compensate for our sedentary life by going to the gym and putting excessive stress on our bodies every once in a while. The net result is that we do more harm than good. The stress depletes our immune systems and leaves us vulnerable to diseases and chronic fatigue. Traditional fitness is not the answer. You need invigorating but low intensity exercises that tone your muscles, lubricate your joints and strengthen your immune system.

Secret #3: Current diets that focus on counting calories and preach restricting the intake of carbs or fats are missing the point. The important thing here is that food contains organic compounds (such as proteins, vitamins and amino acids) which play the critical role of providing necessary nutrients to every single cell in your body. When a certain food is being processed, however, most of these organic compounds are lost and your body does not get sufficient nourishment. Studies have shown that eating several pounds of processed food can supply your body with the same amount of nutrients as eating one pound of unprocessed, organic food. In other words, if you improve the quality of the food you eat, you will need smaller portions to get the same amount of nutrients. As a result you will be shedding extra pounds while being in the peak fitness shape of your life. Many people tell me that these three principles are just common sense and there is nothing revolutionary about them. I totally agree. Yet regrettably very few "fitness experts" share those values. Most training and dieting "gurus" unknowingly mislead the public and contribute to the problem. In an attempt to help people disillusioned by these practices, I decided to create a system that goes back to the basics and uses natural principles to help people achieve fitness for life.

Here is how the Mastermoves system works:

The Mastermoves system consists of muscle stretches and aerobic exercises, designed to tone your body and develop your flexibility, strength, coordination and speed.



The exercises are performed with the help of two simple tools - the Master Disk and the Master Rod, which come with the Mastermoves package. Crafted from durable hardwood, these products are aesthetically appealing and safe to use. They are also small enough so you can take them with you to your office or even your hotel room if you are traveling.



Most of the exercises performed with these tools are the result of my 25-years experience with numerous fitness systems and mind-body philosophies. "I have picked the best from each discipline and have incorporated them in a single, highly-effective fitness program."



Apart from exercise routines, the Mastermoves system also includes healthy eating plans. But don't confuse these with popular diets which make you count calories and avoid certain types of foods (be it fat or carbohydrates). The Mastermoves eating plans are natural, wholesome recipes organized and designed to have a twofold purpose:

The first purpose is to cleanse your body from all toxins accumulated in it as a result of the junk food you've had during the years. This is accomplished by drinking fruit and vegetable juices in the morning for the first 28-days of the program. These tasty juices dissolve your body toxins and flush them out of your organism through regular bowel movements.


The second purpose is to provide the best possible nutrition to your body so that it can be healthy and energetic. The main principle of the eating plans is that at least 50% of your food intake should consist of raw foods in the form of fruits, vegetables, legumes, grains and nuts. The balance should consist mainly of protein-rich foods such as dairy products, eggs, poultry and fish.


When you buy the Mastermoves system you get a set of cooking recipes that will help you prepare tasty and nutritious meals. The ultimate goal is to help you develop the necessary habits so you can have healthy nutrition for the rest of your life.

Let's see what the people who use Mastermoves say about the system's ability to produce real results:

"...WOW! I twisted away 26 pounds and 2 inches in just 3 months!""As a 51 year old office worker, tied to a desk, I found that I was gaining pounds. Off and on, I tried dieting, but realized that the popular diet programs and exercise plans did not work long term. I was looking for a new way out, especially after seeing myself in a family celebration photo and realizing that I did not like what I saw. The years of indulging in food, drink and good times were taking their toll on my health and personal well-being. I didn't want to be part of the middle-aged pot-belly syndrome anymore.Then on a Vancouver afternoon, it was my good fortune to accept Oswaldo's challenge for fitness and prosperity and I have not looked back since.D.F.


________________________________________________________

"...Mastermoves improved my entire body quickly and easily!""I am so excited to share with you that Mastermoves is the most effective and easiest exercise system I have ever personally encountered. As a dieting and nutrition specialist, my expertise is in food and emotional eating. I know what works there, but exercise is not my forte. I thought that the more I exercised, the better it would be - but that's not what happened. I was working out over an hour and a half, six days a week and really not seeing any big difference in my body. It left me sweating, drained and disappointed. I got introduced to Mastermoves and this system was so different, so unique and so much fun, that with just half an hour a day and within 4 weeks, I chiseled 2 inches off my waist and hips, firmed up my arms and came down a full dress size. I have been successful in the weight loss field for over 20 years but this is the first exercise program I can wholeheartedly endorse."C.G.


_________________________________________________________

"...Mastermoves exceeded my expectations in every respect.""Oswaldo, I love the Mastermoves training. I've been using the system every morning for the last four years. The reason why I got it was because I wanted to firm and flatten my abdominal area and develop core muscle endurance. I also wanted to strengthen my back muscles since they were chronically sore from many year playing tennis and studying four university degrees. I must say that the system exceeded my expectations in every respect. My spine is straighter and my back is not sore any more. I can honestly say that Mastermoves is the best fitness investment I've ever made."
N.M.

__________________________________________________________

"...I can honestly say that Mastermoves is the best fitness investment I've ever made!""I am relatively new to Mastermoves, as I've been using the system for the last three weeks only. The reason why I purchased it was because I wanted to lose some weight and get in shape for the summer. I also wanted to strengthen my back muscles since they were chronically sore. I must say that the system exceeded my expectations in every respect. I love how simple and fun the Master Disk exercise is. In just 3 weeks of dancing on the disk I've lost 15 pounds and 2 inches off my waist. Wow! None of the other weight loss systems I've tried have brought me such quick results. In addition to this remarkable weight loss, the other great benefit I experienced was the strengthening of my core muscles. Thanks to my firm abs and back muscles I can see a tremendous improvement in my body posture. My spine is straighter and my back is not sore any more." M.B.


_________________________________________________________

"...I am happy to report that I have lost 20 pounds in the last three months and now I am working on my second twenty.""Throughout my life I have tried numerous regimes, exercise plans, diets, or other tips and tricks. The only program that I have ever come across that is complete in all senses of the word is Mastermoves. It is not really a program, it is a life style. But a life style that does not require a sense of sacrifice or deprivation. Quite the opposite. Once I learned about Mastermoves, and started doing the exercises and following the eating plans, the results were immediate. I am happy to report that I have lost 20 pounds in the last three months and now I am working on my second twenty. I feel lighter, more energetic and more positive about life. Not everyone in my family is concerned about weight loss like I am, but everyone has become a Mastermoves convert and feels better for it. Since I discovered Mastermoves three months ago, the Manual has lived on my kitchen counter. I use it every time I feel like making a healthy meal or quick energy juice. In the preceding months, the effects of my stressful and sedentary job had begun to catch up to me and for the first time I was experiencing symptoms of a deeper fatigue and muscle tightness. In particular my neck, shoulders and lower back were bothering me at the end of each day. This in turn forced me to stop walking and do the outdoor exercises I had always loved. My weekends became an unproductive, wasted time. In this context, I can say that Mastermoves gave me a new lease of life, for which I am grateful to the bottom of my heart!"

N.V.


_________________________________________________________

This is just the tip of the iceberg in terms of benefits and results our customers are reporting. Wouldn't it be great if three months from now your testimonial appears here? But in order to get to that point you have to try the system.

Here is what you will receive when you order the Mastermoves set:

Weight Loss Exercises

Master Disk
This is the main exercise tool in the Mastermoves set and is used in almost all body conditioning and toning exercises. This product is made from hardwood and is sturdy and durable. Sold separately, the Master Disk costs $49.95.

Training Manual
This Training Manual provides a comprehensive overview of the principles and techniques used in the Mastermoves system. It features a description of the core Mastermoves exercises and provides a selection of healthy cooking recipes. The manual is 98 pages long and costs $19.95 if purchased separately

Body Conditioning Program
This VHS Tape contains Body Conditioning exercises designed to align your body and develop the foundation for flexibility, coordination, speed, strength and endurance. Once this foundation is in place, you can proceed to the more advanced Mastermoves exercises demonstrated in the other tapes. The video tape runs for approximately 30 minutes and costs $29.95 if purchased separately.

Body Toning Program
This VHS Tape demonstrates exercises that will help you increase your metabolic rate and burn fat, so you can lose unnecessary weight and develop a lean and beautiful body. The video tape runs for approximately 30 minutes and costs $29.95 if purchased separately.

Master Rod
Complete the set and accelerate your muscle conditioning by adding the Master Rod to your program. It is used for a variety of stretches and body conditioning exercises. With the help of the special attachment that accompanies it, the rod can be used for forearm strengthening exercises. The Master Rod is made of durable hardwood and costs $29.95 when sold separately.

Body Relaxation

Made of solid wood, this massager helps you eliminate the stress and tension in your body, tones your muscles and gently stimulates the circulation of your body fluids.


Master Massager
Unlike electrical massagers which vibrate at unnatural frequencies and create unhealthy electromagnetic emissions, the Master Massager is made of 100% natural wood, which according to Eastern healing teachings enhances the flow of energy in the body and allows you to achieve deeper states of relaxation.

Set Includes:
- Master Massager
- Body Massage DVD (Instructions)
- The Power of Relaxation CD (Audio)
- Instructions

100% GUARANTEE

100% Money Back Guarantee
90 Day Total Satisfaction Guarantee if you follow your training manual and exercise 15 minutes twice a day
5 Years Limited Warranty: Your Master Disk Set is delivered to you in new condition and is warranted against defects in material or workmanship for a period of five (5) years.

Including Cardio & Strength Training Routines; Abs Exercises; 28-day Detoxification Program, Meal Plan and more ... "Core Training System®" is a fitness system designed to burn away excess fat around the abdominal area, while toning & strengthening the muscles underneath.

You will also get Bonuses for more that $50 worth!

FREE BONUSES

$50 Worth!
We will also include the following FREE bonuses:


Salsa Workouts DVD:
(30 minutes DVD)

We offer you unique training for learning how to dance Salsa with the goal of getting you on the dance floor with the most sensual and elegant dancing style.

You will access to our Private Members Site:

You can download manuals, e-books and reports on fitness and wellness such as:

• How To Build Your Body Sweat-Free - any time and any where in less than 15 Minutes a day!

• The Ultimate Core Training Tools

• How To Get "Fit-Fast"

• How Start Your First Vision Boards for Fitness and Richness

• 3 Ways To Instantly Relax And Grow Smart.


Vision Boards Manual
(100 pages PDF file)

By using Vision Boards, you will learn to hold on tight to your personal goal and to take consistent action to manifest your goals.

Having a clear vision, is the first step for making the Law of Attraction work for you and effortlessly take those vital actions to find the perfect people to attract to you... simply by how you react to your daily event and circumstances.

LIMITED OFFER!