THE MASTERMOVES JUICE (1 SERVING)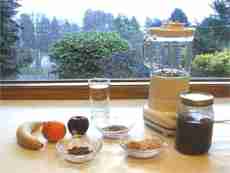 Benefits:

Infuses your body with energetic nutrients.
Provides most of the fibers needed healthy digestion. Thereby lowering the risk of colon cancer.
Enables the sugars and vitamins from the fruit to be absorbed slowly, so that you will not feel hungry throughout the morning.
Helps the evacuation of waste from your body: cholesterol, bile acids and waste from digesting your meals.

Ingredients:


Apple (1)
Orange (1)
Banana (1)
Frozen fruit (1/2 a cup) :
strawberries, pineaple or blueberries.
Simple Serial (1/2 cup)
Water (1 cup)
Honey (1 tbsp.)
Yogourt (1/2 cup)

Directions:

Cut the apple, banana, orange and any other fruits into pieces and blend them with the water until smooth.
( 2 minutes aprox.)
Add the honey and Simple Cereal to the mix and blend for another minute.