THE BIKE ACCIDENT... A SUCCESS STORY
"We are the result of our dominant thoughts"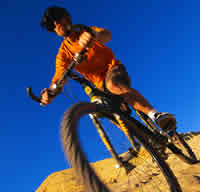 Oswaldo Koch, the creator of Mastermoves, discovered the great benefits of low-intensity training in his need to recover from a nearly fatal mountain biking accident, where he landed on his head and fractured his neck.
To heal his fractured neck, a halo brace was placed on his head and he endured this painful treatment for several months. His doctors had told him that he could never practice sports again. When the halo brace was removed, his body was very weak and his muscles had atrophied from going months without exercise.
The one positive thing that arose from this bike accident is that it made him appreciate his body and health more than ever before. Oswaldo also realized how abusive other training systems based on weight lifting and running had been for his body. So he decided to re-invent his body training routine using the most natural and healthy practices. With this goal in mind, he combined fundamental techniques that he had learned from dancing, martial arts, yoga, gymnastics and massage. And with the use of 3 portable training tools, he created an extraordinary fitness system, known as Mastermoves.
After Oswaldo's halo brace was removed, his doctor suggested that he rebuild his body by physiotherapy and graduated weight lifting over about a one-year period. However, with the sole use of the Mastermoves system, Oswaldo developed an amazing state of fitness within 3 months of removing the halo brace.
Oswaldo has taught Mastermoves to people of all ages, leading to extraordinary transformations in their bodies. For example, even people at the age of 70 greatly improved flexibility and body strength with a few easy minutes of daily home exercises. And most other people, who were training with Mastermoves, developed great coordination, flexibility and good shape in less than three months.
The Mastermoves training begins with 2 weeks of body conditioning with the objective of developing relaxation, flexibility and good body posture. Then, depending your level of fitness, you can practice the Basic Programs or the Intermediate Programs.
The Basic Programs offers two options: The General Fitness program for people of all ages, and the Weight Loss program for people that need to get leaner fast. The intermediate programs are designed to help you achieve an outstanding level of fitness. These programs are:
- Body Flexibility
- Body Coordination
- Body Strengthening
- Body Endurance
Any Mastermoves program you practice requires 15 minutes, twice a day.
Mastermoves is neither a science nor a philosophy; it's just a practice that will help you develop and sustain fitness for life. And it only takes a few easy minutes a day. In fact, anyone can do it - any ordinary person can become an extraordinary person. All it takes is a commitment to practice Mastermoves every day - anytime, anywhere.
Live a Fit and Prosperous Life!
Copyright © 1999-2011 by OK Initiatives
All Rights Reserved