© Copyright 2007
OK Initiatives, Inc.
1995-2007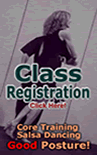 Salsa Lessons Vancouver

Intuitive Power
You Have The Courage To Succeed.
Win $10,000 Many Times
A view of the challenge
WHAT IS THE CORE CHALLENGE?
The Core Challenge is a holistic fitness approach to help you achieve a goal of your choice in 100 days. The Core Challenge is not a science rather, it is a practice designed to develop the power of your intuition to overcome obstacles and reach your goals.
Intuitive power comes from energy, and energy comes from balanced mental and physical fitness. A person may have the greatest idea in the world, but if she does not have the energy to put it into action, she won't get very far.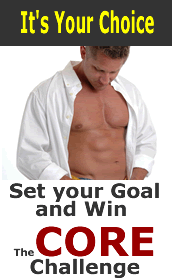 Energy and intuition are also linked to self-image. When you look and feel good about your body, you have a greater self-image.
If you do not keep your mental and physical energy at optimal levels, your body begins to disintegrate and your ability to think, be productive and carry through with your goals crumbles. Fitness is, therefore, at the core of your ability to manage the energy required to reach your personal goals.

Our integrated fitness approach will help you maintain and optimal level of energy based on five Core Pillars:
1. Core Hydration
2. Core Hygiene
3. Core Nutrition
4. Core Training
5. Core Energy

Additionally, The Core Challenge includes the Green Practice for protecting our environment from further pollution and global warming.
Core Hydration:
An estimated 75% of North Americans are chronically dehydrated. Most do not even manage to consume the minimum required eight glasses of water per day. Water is your body's principal chemical component comprising approximately 60% of your body weight. Every system in your body depends on water. Water flushes toxins out of vital organs and carries nutrients to your cells.
Many people believe that any liquid can hydrate the body. In fact, nothing can replace water for proper hydration of the body. To the contrary, drinks such as soda pop, processed juice, coffee or alcohol dehydrate the body and lower the body energy.
Core Hygiene:
Core Hygiene focuses on caring for your skin. All part of your external body such as your hair, nails, eyes, ears, genitals, teeth, and gums are extensions of your skin. Your skin makes up 12% to 15% of your total body weight. Your skin also offers a valuable reflection of what is going on inside of your body.
One of the most effective ways of protecting ourselves from illness is maintaining healthy skin. Skin provides your first line of defense against the outside world. So reducing the threat of bacteria that constantly reside on the body will, in turn, reduce illness.
Core Nutrition:
What you eat, how you eat, and how much you eat is essential for building your core muscles. Every minute of your life, your body replaces more than 200 million dead cells. If you eat junk food, your body in incapable of replacing the dead cells.
Core Nutrition is not a diet. Trendy and restrictive diets interfere with good health and optimum weight, which is better achieved through a regular good eating plan such as Core Nutrition. Most conventional dieting causes weight to be lost from muscle and not fat; the result is an unbalanced lean muscle to fat ratio and a weak, shapeless body. Core Nutrition is the practice of eating natural foods to produce optional levels of mental and physical energy.
Core Energy:
Core Energy is a based on the integration of physical, mental and spiritual energy. Many doctors are aware that spiritual, mental and emotional factors play a major role in illness and health but their training has emphasized the physical and they often do not know how to address spiritual or emotional energy. Mental and spiritual energy resonates with life experiences such as personal and professional relationships, and becomes encoded in the cell tissue of your body.
A fully nourished body, with all systems on line and exchanging energy freely with the Universe at every level is a consequence of your healthy self-image - your Core Energy. One of the greatest surprises you'll experience during The Core Challenge is when you discover that there are no limitations to what you can do except the limitation of your own energy.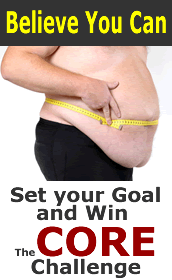 Core Exercise:
The energy of your body will not be free-flowing if your physical body does not provide the foundation to channel your energy. When movement originates from your core muscles, pressure changes occur in the core muscles that assist the circulation of blood and lymphatic fluids throughout the body. At the same time, the spinal column is re-aligned, and your internal organs are massaged and placed back into the ideal position. Your core is responsible for flexing your body forward and sideways, rotating it side-to-side, spine extension, as well as torso and pelvic stabilization.

To successfully train your core muscles, they should be challenged in a variety of ways which include relaxation, balance, flexibility and the integration of circular movements (hip rotation). All of these techniques are found in the Mastermoves Core Training system. Using circular movements, like dancing, core training stimulates your internal organs by the compression and elongation of your core muscles. See Appendix X.

Q: What is the Challenge all about?
A: The 100 Day Core Challenge is a health education and behavior change program open to every person willing to to make exercise and proper nutrition a top priority in their lives. Many people know what to do, but we've discovered that they need an incentive to help them focus.

Whether you want to make changes in your diet, or to quit smoking, the Core Challenge will provide you with the information, the structure, and the support to turn your fitness's resolutions into lifestyle changes

Q: What is the registration cost?
A: You only pay $50 which includes the 100 Day CORE Training manual and $200 worth of FREE Bonus Gift.

Q: What are the FREE Bonus Gift?
A: You gain one year access to our online Core Challenge Library (e-books, videos, training manuals and more!)

Q: What is the prize for wining the challenge?
A: You could win $10,000 cash! So after finishing the 100 days you will not only have the body you've always wanted but $10,000 to celebrate the tremendous success you've achieved. The rules to win The Core Challenge are explained in the tracking manual that you receive with your registration.

In addition, by winning the 100 Day Core Challenge, you are qualified to become a Mastermoves fitness trainer, and with your permission, we will share your fitness success in our promotional shows and fitness events.

Q: Where can I learn more about nutrition and fitness?
A: You can contact our CORE Training Advisors, who you can contact by email at info@mastermoves.com or call at 604-307-8992. The Mastermoves manual "Your New Body is here!" is a comprehensive and easy to read source of information. It will teach you how to detoxify your body, how to build muscle and burn fat fast through an holistic approach to training and nutrition. Your New Body Is Here also contains important information on how to set goals and achieve them, as well as providing you with the charts for tracking your daily activities.

Q:How many times can I take the CORE Challenge?
A:You can take the Core Challenge as many times as you want. Consistency is the rod to success.

Q: Do I have to keep track of my weight or body fat percentage to compete in the Challenge?
A: Yes, you must include your weight on the entry form. However, body fat
percentage is optional.

Q: How can I get started if I don't belong to a gym?
A: The great thing about CORE Training is that you don't need to belong to a gym to exercise your body. However, you need to buy the Mastermoves Core Training system. which includes everything you need to win the CORE Challenge.

For more information, please call 1-604-307-8992 or visit www.mastermoves.com.

Q: Do I have to use the Mastetermoves Core Training system to officially compete in the CORE Challenge?
A: Yes. You must use at the Mastermoves Core Training system every day during your Challenge. Mastermoves is a portable and effective fitness system for achieving outstanding fitness results.

Q: Do I need to hire a fitness trainer to assist my training?
A: Having a fitness trainer is optional. The most important rule is to follow the Mastermoves Core Training system, which includes training tools, videos and instructional manual.

Q: Is there any age restriction?
A: Yes, the CORE Challenge is adults and seniors.

The Challenge - Step by Step
Success is the sum of small efforts, that you repeat day in and day out. Many people take the first step and then stop. Yet, with every additional step you take, you enhance immensely the value of your first step. The Core Challenge comes with a step-by-step instructional manual that will guide you day-by-day towards your fitness success. This manual presents a daily CHECK LIST of everything you you have to do during the 100 Days Mastermoves Challenge.

You will receive your tracking manual once your registration is accepted. If you take this challenge, be prepare for changes that will make you healthier, leaner and stronger. If you follow the instructional manual to the letter, be prepare to make your body a work of art!

Success Story: "As a 51 year old office worker, tied to a desk, I found that I was gaining pounds. Off and on, I tried dieting, but realized that the popular diet programs and exercise plans did not work long term. I was looking for a new way out, especially after seeing myself in a family celebration photo and realizing that I did not like what I saw.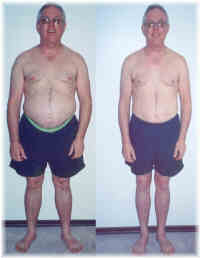 The years of indulging in food, drink and good times were taking their toll on my health and personal well-being. I didn't want to be part of the middle-aged pot-belly syndrome anymore. Then on a Vancouver afternoon, it was my good fortune to accept Oswaldo's challenge for fitness and prosperity and I have not looked back since."
- D. D., Vancouver

Take this firts step now...move in favor of fitness and prosperity!
All masters of success are chiefly distinguished by their power of adding a second, a third, and perhaps a fourth step in a continuous line. There is no royal road to anything. One thing at a time, all things in succession is the rule of life. That which grows fast, withers as rapidly. That which grows slowly, endures. Take The CORE Challenge and win the challenge day by day!.
We offer you the best fitness solution!!
Including Cardio & Strength Training Routines; Abs Exercises; 28-day Detoxification Program, Meal Plan and more ... "Core Training System®" is a fitness system designed to burn away excess fat around the abdominal area, while toning & strengthening the muscles underneath.
Contrary to what many people believe, abs exercises and workouts do not need to be done in the gym. Your abs don't need to be tormented through endless sit-ups, painful crunches or hi-tech apparatuses. The main focus of Core Training System® is proper nutrition and natural circular moves - just a few minutes a day. You will develop a lean and strong core by performing simple yet extremely effective exercises with the Mastermoves tools.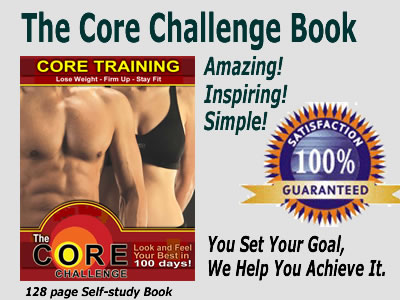 YOU WILL HAVE FREE SUPPORT FROM OUR TEAM.


You have FREE access to a large team of professionals that you can call anytime.

LOCAL: 604.742-1120
(Mastermoves)
EMAIL: info@mastermoves.com

FAX: 606.642.6231

What type of abs exercises includes:
To successfully train your abdominal muscles, you need a wide variety of circular exercises that target the muscles from many different angles. The tools below are designed to accomplish that. The exercises performed are low-intensive but stimulate the core muscles to work harder while maintaining proper balance and body posture.

Requirements



Register for The 100 Day Core Challenge

Purchase your ideal Core Training system

Four Programs to Manage Your Weight & Shape!
Whatever your goal – muscle up, slim down, burn fat, gain energy – Core Training tailors a program to help you get fit and stay on track with your fitness goals.

Select your ideal program: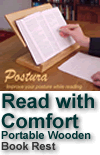 Book Holder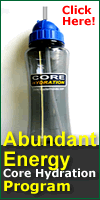 Water Bottle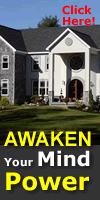 Vision Boards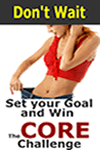 The Core Challenge
Registration