Outstanding Results!
Easy to Practice, Weight Loss, High Energy, Fat Burning, Conditioning, Cellulite Reduction, Strength Building, Light Weights, Low Impact, Stretching, Firm Buttocks, Lean Abs, Flexible Thighs and Portable Tools included, are some of the main reasons for ordering a 90-Day risk-free trial. Also, included in your complete set, you will have the Core Training Manual.

"Master Moves has helped me dramatically..."
"In just a couple of months, the severe carple tunnel in my hands has been healed! I have suffered from back and shoulder pain from football injuries for years, which at times was debilitating, has also been healed! I have more energy and flexibility and to top it off I've lost 14 lbs! I am so grateful for Master Moves! It has been such a wonderful blessing for me."
Sincerely.
-- Mark Levesque
Pastor, Discovery Church
www.dconline.org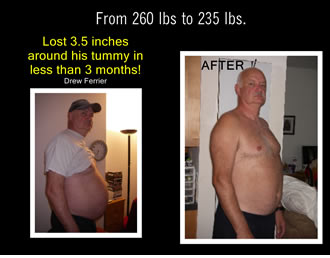 "...I lost 3.5 inches around my tummy!"
"We started the Master Moves on April 4, 2008 and just finished. We tried to count approx. 100 days. I wasn't sure as to how to take the before and after pictures, so what I'm sending you is of course amateur pictures. Drew stepped on the scale in April, at 260 lbs., and his tummy (around the biggest part) was 50 and 1/2 inches. He stepped on the scale today and was 235 lbs. (and extremely happy), and his tummy was 47 inches. HE was even shocked as he said he couldn't believe it. All previous DIETS never did work nor did they keep the weight off. We did the Master Moves"almost" faithfully every day, 100 - 200 twists every morning and every night. If you need more information, please don't hesitate to let me know. Thanks again and we await your reply."
-- Drew and Julie Ferrier
Penticton, BC, Canada
"...Mastermoves represents all essential elements of fitness."
"Everybody has a passion in life. For me, that passion is fitness. There is nothing that I would rather do than to train my body to be in excellent condition for the rest of my life.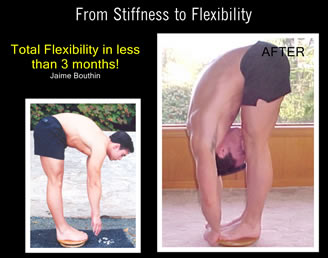 I have experimented with many different body-training methods. Each method focused on one specific aspect of fitness like muscular strength, endurance or flexibility. However, to train your body properly, it is necessary to include all these aspects of fitness in one training program; that's the great thing about Mastermoves - it represents all essential elements of fitness. Now that I train daily with Mastermoves, my physical fitness program is complete.

Mastermoves is a balanced training method that compliments any lifestyle. I have found the training techniques to be very effective and easy to integrate in daily routines. I am more in tune with my body and I have a better understanding of what my body needs. Mastermoves routines and meal plans allow me to maintain a lean, healthy and efficient body.
Together with discipline and determination, Mastermoves is all that you need to develop the best condition for your body and mind. The rest is up to you."
-- Jamie Bouthin
Fitness Trainer

"...Mastermoves exceeded my expectations in every respect."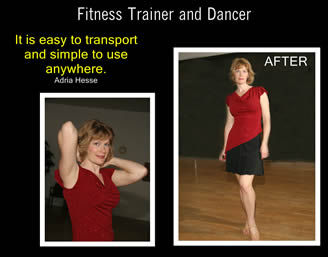 "The value of maintaining rotational movement throughout the entire
spinal column cannot be understated. Vitality is achieved when the spine is flexible, thus allowing for the spinal cord to function at optimum.

Mastermoves is a great tool to help you achieve both. It is easy to transport and simple to use anywhere. Practicing Mastermoves daily will restore flexibility and stability as well as enhance coordination. Twist away!"
-- Adra Heese
Fitness Trainer, Dancer.
"...WOW! I twisted away 26 pounds and 2 inches in just 3 months!"
"As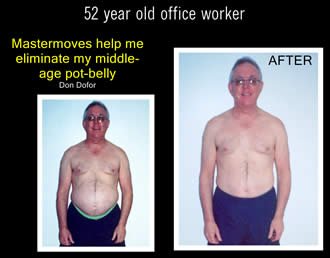 a 51 year old office worker, tied to a desk, I found that I was gaining pounds. Off and on, I tried dieting, but realized that the popular diet programs and exercise plans did not work long term. I was looking for a new way out, especially after seeing myself in a family celebration photo and realizing that I did not like what I saw. The years of indulging in food, drink and good times were taking their toll on my health and personal well-being. I didn't want to be part of the middle-aged pot-belly syndrome anymore.Then on a Vancouver afternoon, it was my good fortune to accept Oswaldo's challenge for fitness and prosperity and I have not looked back since.

-- Don Dofor, Vancouver, BC