If you are just starting out, welcome to Core Salsa!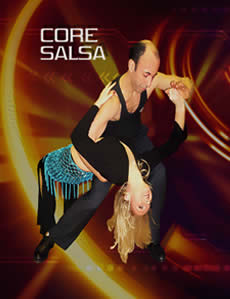 Core Salsa is the most effectve training to get Your Best Body And Dancing Moves from your hips. Salsa Dancing will prove rewarding to you in ways you can barely imagine right now!
Using Core Training techniques, you will learn to dance with beauty, power, flexibility and sensuality. Also, Core Salsa will help you tone your body, improve your posture and body endurance - Sweat FREE!
We are good at what we do, and share with passion what we know, so that you learn how to dance with confidence and begin to enjoy your salsa dancing immediately.
IMPORTANT: The confidence that comes with salsa dancing is truly amazing! Having the skills to salsa dance is like knowing you can walk up to any man or woman and ask them to dance with confidence, and knowing the answer will be YES!
You'll Discover Exactly How To Build Solid Lean Muscles while dancing Salsa, Merengue, Bachata, Cumbia and Cha Cha... And More:
Even if you've struggled to learn how to dance before, even if you think you are two left feet. We make sure you feel comfortable and confident with the routine which is simple, effective and above all elegant! It does not matter if you have no previous dancing experience, by the end of your 10 lessons you will feel and look like a dancer.
Our instructors understand that learning to dance can be a stressful and hectic experience, therefore we have included CORE TRAINING to help you relax and move your hips with power and beauty.

Wherever you learn your dance routine, we will ensure it's a fun and an enjoyable experience were you and your dance partner can work together to create a dance which you will remember forever.

Whatever age you are , whatever body type you are, whether your male or female, Core Salsa is science and practice that truly delivers results.

Salsa Classes - Vancouver Dance Salsa